Are you ready to enter the domain of the Arellano Chiefs? If you have the Manila-based university on your shortlist, here are some crucial details that might factor into your decision.
History of Arellano University
Before it offered many other programs, Arellano University started as a law school and took its name from Cayetano Arellano, the first Filipino chief justice. It was founded in 1938 as Arellano Law College by Florentino Cayco. Like many other universities, classes were disrupted during World War II, but by the end of it, the institution reopened with courses that catered to prepping potential lawyers and a regular four-year law course. The same year saw the opening of its programs in education, commerce, foreign service, and the arts and sciences.
A couple of years later, the institution expanded into graduate studies—which would later become organized as the Florentino Cayco Memorial School of Graduate Studies—and then offered courses in sports and basic nursing. Today, as one of the top universities in Metro Manila, Arellano has seven campuses in its system: the main campus in Legarda, Juan Sumulong campus, Jose Abad Santos campus, AU School of Law, Andres Bonifacio campus, Plaridel campus, and the Elisa Esguerra campus.
ADVERTISEMENT - CONTINUE READING BELOW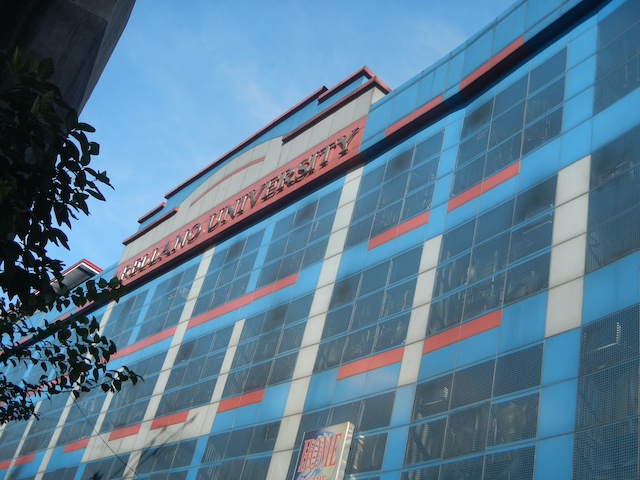 Top Courses Arellano University Is Known For
There's a program for almost anyone at Arellano, with offerings from Criminology to Sports & Wellness Management. A couple of programs that make them stand out are the International Nursing Program, which allows students to study at a partner university abroad, as well as its standard Nursing program here. The school is also recognized for its degrees in Secondary Education, Elementary Education, and Business Administration. 
How to Apply to Arellano University
According to an estimate by EduRank, Arellano has a 43 percent acceptance rate and a student population of 32,500. In order to be counted among this number, here's what freshmen students need to prepare for application:
High School Report Card (Form 138)

Certificate of good moral character

Certificate of eligibility for admission to college from CHED if (1) is not available 
To enroll, students must:
Submit their requirements at the Registrar's Office and fill out the Student Information Sheet

Apply for and obtain a Student Number 

Proceed to the Office of the Dean of your select college, fill out the enrollment form and secure confirmation for class schedule

Submit the Student Enrollment Form for encoding and assessment of fees

Present the Student Enrollment Form to the Bursar's Office and pay the tuition fee

Obtain a copy of your Registration and Assessment Form (RAF) and have this signed and stamped
ADVERTISEMENT - CONTINUE READING BELOW
See the full process here.
Those who want to study abroad may note that Arellano has a number of academic partners in which it facilitates exchange programs with. This list consists of: Arizona State University, Alderson Broaddus University, Edith Cowan University, Federation University Australia, Guangxi Vocational and Technical College, University of Plymouth, and the Gunma University of Health and Welfare.
Tuition and Other Fees at Arellano University
Future Arellanites, you need to be prepared to shell out around P50,000 to P60,000 per year, depending on your program course. This will also depend on the number of units you take, with fees at P860 per unit in 2021, and miscellaneous fees at P6,500.
Those who will take a master's degree can expect to pay between P20,500 and P45,000.
Famous Alumni at Arellano University
You can count current mayor of Manila, Isko Moreno, as an almost graduate from the institution when he left in his second year after he was elected vice-mayor. One political figure who did graduate with a law degree from Arellano was Samira Gutoc, who works largely with the legislative branch in Mindanao. 
ADVERTISEMENT - CONTINUE READING BELOW
Retired basketball player Alvin Teng, who played for the San Miguel Beermen, also got his start at Arellano. Teng is the father of Almira, Jeron, and Jeric Teng. 
A younger name to be added onto the list of Arellano alumni is StarStruck alum Kevin Santos, who graduated with a Political Science degree with latin honors and dreams of being a pilot.
ADVERTISEMENT - CONTINUE READING BELOW
READ MORE:
Everything You Need to Know Before Applying to Colegio de San Juan de Letran
Everything You Need to Know Before Applying to the University of the East
Everything You Need to Know Before Applying to Adamson University
Everything You Need to Know Before Applying to San Beda University