We know you might be confused with all the changes we've been making this year. We switched our logo to a brand spankin' new one. The Candy Cuties are surprisingly missing from the September issue. And the most important change that we know you're freaking out about: NO CANDY FAIR SAVE THE DATE YET!
Relax. Take a breath. And now, let us discuss what the first ever Candy Teen Con is all about.
ADVERTISEMENT - CONTINUE READING BELOW
The low-down: a convention is basically a huge meeting or gathering of people who, in this case, fangirl over basically the same things. That's all of you (and us!), Candy Girls!
We're committed to bringing you the best of everything and each year, we're trying to bring it up another level. So what's in store for you this year at the Candy Teen Con? First of all, we promise you it'll be one fun party for everyone. And if you're worried that we've scrapped the Candy Cuties, don't fret! They'll be in the October issue and at the event on October 29. There will be several performances—one of which will be voted on by YOU, our dear readers—plus workshops you can join throughout the day. Lastly, we've curated a mini-bazaar of sorts where you and your besties can shop to your heart's content.
We'll be revealing more details throughout the month and the weeks leading up to the big event, so make sure to keep posted here on the site and all our social accounts! 
ADVERTISEMENT - CONTINUE READING BELOW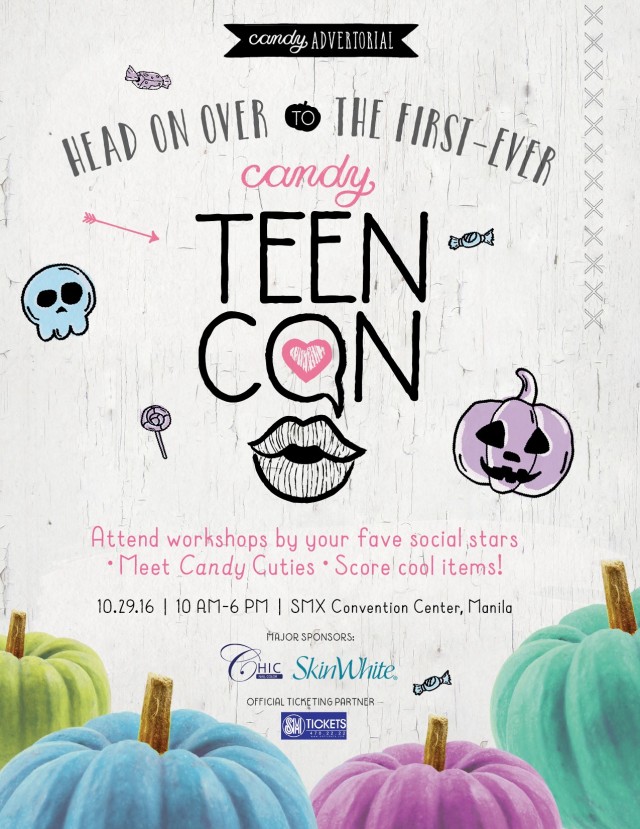 For now, make sure to secure your tickets from SM Tickets available for P250 each. We can't wait to see everyone in their raddest Halloween #OOTDs at the SMX Convention Center on October 29, 10am. It's going to be the sweetest Halloween party ever!