With its blue school colors, its bird mascot, Adamson University is not to be confused with Ateneo de Manila University. In its own right, Adamson, abbreviated as AdU, is on a mission to provide quality education for the "socially disadvantaged." What was once a night school with 42 students has now become one of the metro's top universities.
Here's what you need to know about AdU:
History of Adamson
Adamson marks its beginnings as a night school that taught 42 students at the Paterno Building in Santa Cruz, Manila. It was established in 1932 as the Adamson School of Industrial Chemistry (ASIC) by cousins George Lucas Adamson, Alexander Adamson, and George Athos. Quickly the student population shot up to 200, which called for a larger building later found in Solano Street in San Miguel. After two years of running, the school was quick to add four-year programs in Industrial Chemistry; the graduates of said course could go on to qualify for the program at ASIC. 
ADVERTISEMENT - CONTINUE READING BELOW
In 1941, the school reached university status and its College of Law was established in the same year, with former Senator Elpidio Quirino as its dean. World War II proved to be difficult for the institution as it was taken over by the Japanese forces, who put George Lucas in prison. It reopened again in 1946. Its founder later passed on ownership to the Congregation of the Mission (Vincentians) at the end of 1964, which led to the university's conversion into a Catholic university.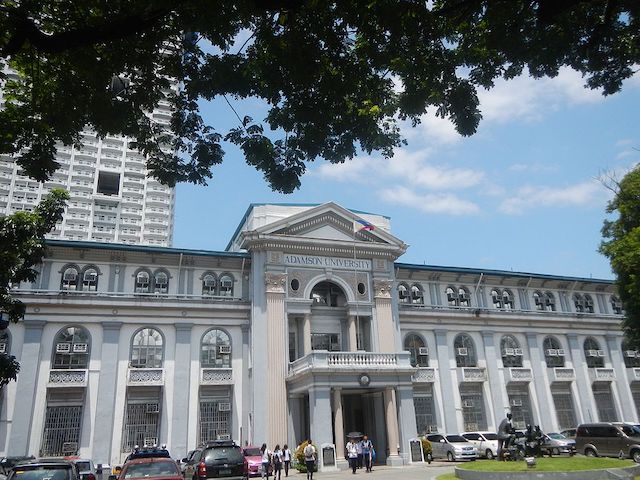 Top Courses Adamson University Is Known For
Adamson is best known for its Engineering courses, which is its flagship program. Its Chemical Engineering, Civil Engineering, Computer Engineering, Electric Engineering, Industrial Engineering and Teacher Education courses were all recognized as Centers of Development by the Commission on Higher Education (CHED). As a whole, the university was ranked among the top nine schools in Metro Manila and was one of the Philippine universities to make it to the QS Asia University Ranking in 2022 at the 651+ mark.
How to Apply to Adamson University
When considering a future at Adamson, also consider the first steps prospective students need to take: application. First, gather the following requirements:
High school report card (Original form 138)
Certificate of good moral character issued by the high school
Original copy of the NSO birth certificate
Letter of Application written to the registrar
Two 2x2 ID photos
A downpayment of P5,000
After compiling and completing these requirements, here are the next steps:
Present the credentials and UEE result to the admissions office
Secure an interview with the chairperson of chosen college or department
Submit the original requirements to the Admissions Office and accomplish the Student Information sheet
Pay the P5,000 downpayment at the cashier's office and obtain a certificate of enrollment
Secure a school ID and school uniform and you're all set for the freshmen orientation!
How Much Tuition and Other Fees are at Adamson University
To make it to AdU, one would have to set aside around P30,000 to P50,000 for tuition and other fees per semester. The university follows a semestral academic calendar and freshmen students take on a course load of around 23 to 29 units, depending on their chosen course. Here's a breakdown of semestral tuition fees per college:
College of Architecture: P50,549
College of Business Administration: P37,634 - P46,940
College of Education and Liberal Arts:P30,866 - P46,940
College of Engineering: P45,968 - P49,523
College of Nursing: P52,737
College of Pharmacy: P53,089
College of Science: P38,347 - P48,366
ADVERTISEMENT - CONTINUE READING BELOW
You may find the complete list of tuition fees for freshmen students here.
Famous Alumni From Adamson University
The Adamson Falcons have had their fair share of proud and successful alumni who have earned their degrees and done their alma mater proud. One of its most notable alumni is Mary Jane Alvero-Al Mahdi, a chemical engineering graduate and the CEO of Geoscience Testing Laboratory who has been awarded as the university's Most Outstanding Alumna twice. Adamson graduates have also been making waves in the world of sports; a list that includes volleyball varsity player Jema Galanza, former pro basketball players Kenneth Duremdes, Hector Calma, and Marlou Aquino, and champion bowler Paeng Nepomuceno. The late and legendary actress Nida Blanca had, in the meantime, earned her high school degree at the learning institution.
READ MORE:
Everything You Need to Know Before Applying to Mapua University
Everything You Need to Know Before Applying to the National University
Everything You Need to Know Before Applying to Colegio de San Juan de Letran
Everything You Need to Know Before Applying to the University of the East