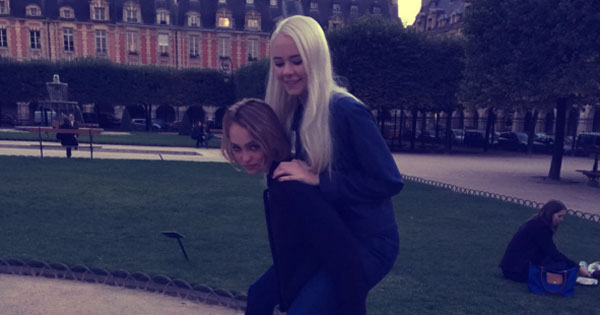 It's been a long and harrowing work in school. You've been up late at night, finishing all your requirements and you can't help but scream, "Thank God it's Friday!!!" We feel you. And because weekends are the most wonderful time of the week, where you get to chill, relax, and do the things you actually want to do, we're here to share a few places where you can do just that! Go on a date with your best-est friend and forget you were even stressed in the first place. Let us know which places you like best!
1 K and L Cafe
White Plains, QC across Pan de Amerikana
Open daily, 7am - 9:30pm
Remember summers in the province with your childhood friends? This cozy cafe serves Baguio favorites like longganisa with Ilocos vinegar and mountain red rice.
2 Mrs. Graham's Cafe
51 Scout Rallos, QC

Love breakfast? Check out the new macaron flavors from Mrs. Grahams. And you can totally ditch let your boyfriends have a bro brunch at Mr. Graham's Sandwich Shop right next door while you and your bestie catch up over tea and sweets!
ADVERTISEMENT - CONTINUE READING BELOW
3 Hillside Cafe and Juice Bar
57 Mother Ignacia Street, Quezon City
Open daily, 11:30am - 9pm
If you're always bonding over green smoothie recipes and exchanging the latest workout tips, head over to Hillside Cafe and Juice Bar to get your superfoods fix. Bonus? You get a beautiful green view when dining here.
ADVERTISEMENT - CONTINUE READING BELOW
4 Yummy Eats
Metrotent, Metrowalk
November 7,
Make sure to go with empty tummies because you and your bestie will definitely be going on a major food trip once you enter the tent. For more info, check out Yummy.ph!
5 The Nook Cafe
164A Maginhawa St., Sikatuna Village, QC
Open Tuesdays-Saturdays, 1pm - 10pm; Sundays, 1pm - 7pm
If you and your best friend are Potterheads, you must plan a trip to this cafe!
6 Ludo Boardgame Bar and Cafe
26 Scout Torillo Street and Jupiter Street, Makati City
Check out ludogames.ph for operating hours
Competitive soul sisters will find comfort in this place. Try to break each other's streaks! Just don't be a sore loser, okay?
ADVERTISEMENT - CONTINUE READING BELOW
7 Bucky's Counter
Mezzanine Level JJACC BLDG 169 Aguirre Ave BF homes Parañaque
Cafe and fudgy treats sound good? Set a date here at the Bucky's counter with your gal pal. You can catch up all afternoon!

Where would you go on a date with your best friend? Leave us a message or tweet us @candymagdotcom so we can check out your favorite BFF date places, too!