The amazing talent of the Filipino is something that we should always celebrate; that is why we have listed down five books by Filipino authors that deserve room in your next book haul. Head on to the local books section of your favorite bookstore this weekend and revel in the beauty of our own literature.
Hai[na]ku by A.A. Patawaran
ADVERTISEMENT - CONTINUE READING BELOW
Witty title? Check. Lovely cover art? Check. Genius poetry? Check. Hai[na]ku is a gem tucked in the Filipino section of your favorite book store and it is dying to be found. There will always be something about Filipino poetry that will turn our hearts into gooey marshmallows. The best thing about this book is that it does not only touch on love; it also tackles life's all-encompassing events, the highs and lows and everything in between.
No Filter by The Sandbox Collective
ADVERTISEMENT - CONTINUE READING BELOW
We dont know when we will finally get over this amazing book; maybe never. We believe that No Filter, released just a few weeks ago, should be in the bookshelf of every millennial because no book could ever understand and represent our generation better. Reading No Filter will always feel like talking to a good friend who knows you by heart, maybe even more than you know yourself.
Mythology Class by Arnold Arre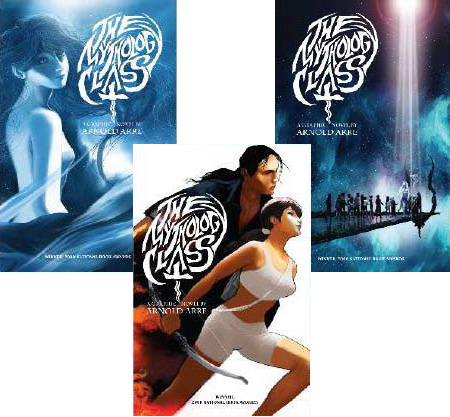 If you have always been a fan of Greek mythology (admit it, you secretly hope that you are a demigod), why not get to know our own version of heroes and supernatural creatures? Mythology Class will teach you about local folklore and the Filipino culture in the most "NOT boring" way, just trust us on this one. For Candy Girls who are into graphic novels, this is a must-read!
ADVERTISEMENT - CONTINUE READING BELOW
Lahat Tayo May Period at iba pang punctuation marks by Rod Marmol
If you have always been an avid follower of Utot Catalog on Facebook and if you are a human being who happens to have a lot of ~*feelings*~ then you should really get a copy of this Rod Marmol book. He has definitely mastered the art of the hugot and his every piece is a cathartic experience.
ADVERTISEMENT - CONTINUE READING BELOW
In Case You Come Back by Marla Miniano and Reese Lansangan
This book of poetry contains musings on: adventure, falling in love, half-truths, heartbreak, insecurities that follow you around, paper cuts, pixie dust, yoga, tense lunches with mom, and a whole lot more of things we feel strongly about. The beautifully woven words living inside its pages will surely stir your feels. 
ADVERTISEMENT - CONTINUE READING BELOW
What Things Mean by Sophia N. Lee
This book brought home the bacon in the Scholastic Asian Book Awards in 2014. This unique coming-of-age story unfolding through dictionary-style chapterstakes a closer look at the things that define a life, and the many ways in which we find meaning. YA novels set in the streets of Metro Manila don't come by often so this book holds a special place in our hearts.
ADVERTISEMENT - CONTINUE READING BELOW
Happy Reading, Candy Girls!