We won't deny it. We. are. Instagram. Obsessed! We bet the first and last thing you lay your eyes on every day is your feed. You simply can't go a day without browsing your fave accounts and double-tapping your friends' awesome posts.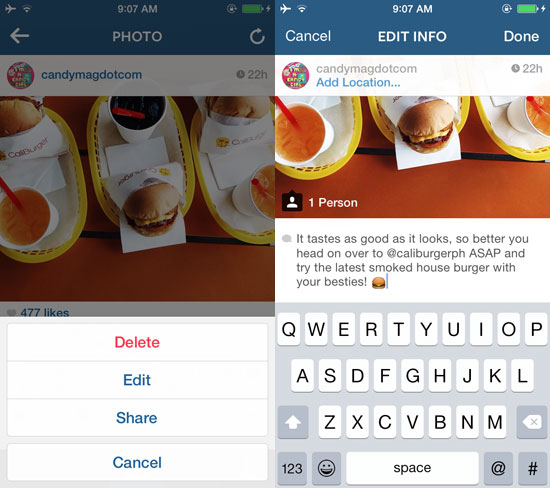 But we've always hated the fact that we can't edit our captions. We mean, this is 2014. It shouldn't be that difficult, right? And it looks like Instagram finally heard our silent prayers. The iOS 6.2 version and Android 6.10 version are both available today. And thank goodness because haven't you gone through the hassle of deleting your post—or commenting as yourself—because of one of these reasons?
ADVERTISEMENT - CONTINUE READING BELOW
No thanks, autocorrect. Or fat fingers. Don't you hate it when you've made the perf post and you just realize that your phone mistakenly autocorrected sweet to sweat. Like cupcakes are really sweat. Hmm, no.
Wrong tag. What a difference a character or two can make, huh? Like @juliabarreto is not @juliabarretto.
Wrong hashtag. Because hello, you want your photo show up on #TS1989 and #taylurking, right? Because there are actually posts weirdly under a #taylorking hashtag. Wanna bet that was a typo?
Forgotten tag/hashtag. Your friend might get major #FOMO when you forget to include her in the names you tagged in your caption. And who wants to get an FO (read: Friendship over) just because of this minor detail.
No caption. You know how you get super excited when you've got the ultimate shot that you completely forget to write your witty caption?
P.S. You can also edit the geotag location now. You know what we're waiting on next? A switch user option. Hear that, Instagram?
ADVERTISEMENT - CONTINUE READING BELOW
Don't forget to follow us on Instagram (yay, 30k followers!).