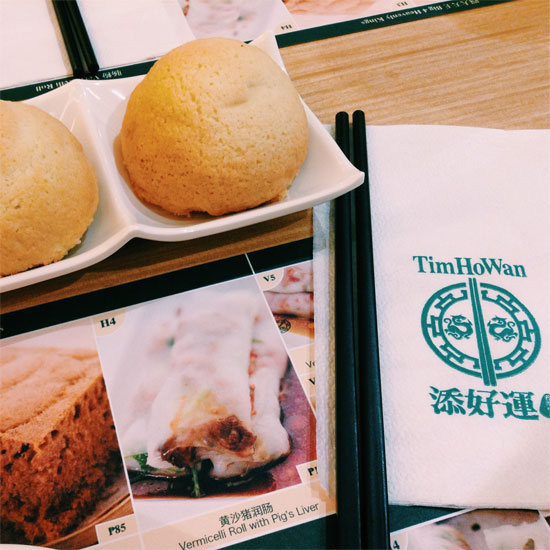 Famous for its baked pork buns (we'll get to that in a bit), Tim Ho Wan is the world's most affordable Michelin-star restaurant. People have gone to Hong Kong and Singapore and lined up for a taste of the golden buns, but the famed restaurant has finally made its way to our shores. Its first branch now open in SM Mega Fashion Hall, the queue starts at 10am even if the store opens at 12 for lunch. The second branch in Mall of Asia is set to open soon.
What are they lining up for exactly? We've already mentioned the famous Baked Buns with BBQ Pork(P145), sweet barbecue pork baked in a bun, a sweeter cousin of the siopao we've come to know. But what else should you order? Try the Wasabi Salad Prawn Dumpling (P140), dimsum that's encased in what's like an empanada. Even if you're not a fan of spicy, the wasabi is very subtle and you won't need to grab your glass of water to wash it down. The Dumpling Teochow Style (P120) looks pretty (the wrapper becomes translucent when steamed so you can see what's inside) as it is tasty. If you're looking for something filling like a rice meal, order the Glutinous Rice with Lotus Leaf (P190) to share. One of their bestsellers is the Vermicelli Roll with Pig's Liver (P150), but if you're not a fan of liver, you can always go for the Vermicelli Roll with Beef (P160) or Shrimp (P190).
ADVERTISEMENT - CONTINUE READING BELOW
Tim Ho Wan is located at the second floor of SM's Mega Fashion Hall.