1 It's a long weekend.
It's happening on August 29-30, which means you don't need to go to school the Monday after. If you're all tuckered out from the event, you have a day to rest. ;)
2 There are so many fun workshops you can join.
From rubber stamp making to brush lettering to hand lettering to chalk lettering, there are a lot of craft workshops you can join that weekend. When you register for a slot (just P5,500), apart from transportation, lodging, and access to all the festivities, you also get to choose one craft workshop to attend!
3 Food, music, and live art.
There will be an open kitchen by the ocean and seaside jams with Flotsam and Jetsam's Folk Yeah. Plus, witness live art by June Digan and Jelvin Base.
4 You can shop for crafty stuff!
Shop the weekend away with loot from Block Party merchants Space Garden, Bicspoke, Agos Lifestyle, KatchaCanvas, Tali Ti Amianan, and Crafts by Maria Balingit.
5 You'll be by the ocean.
We mean. How can you say no to the sun, sand, and the sea?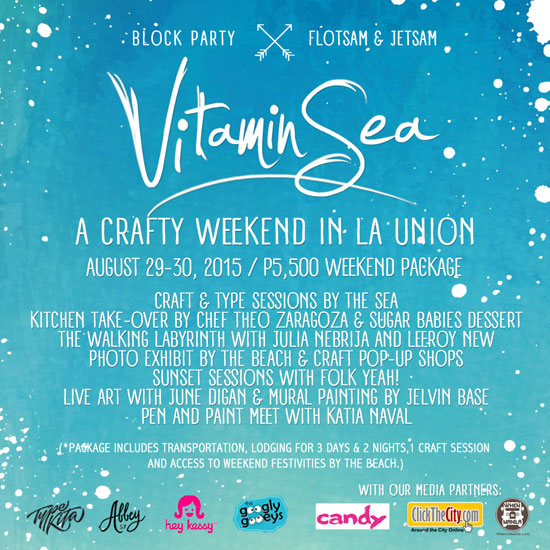 So what are you waiting for? Sign up for a slot before they run out! And just between you and us, watch for our Instagram post about Vitamin Sea and make sure to leave a comment. ;) You might get a nice surprise!
ADVERTISEMENT - CONTINUE READING BELOW