A mobile phone is like magic in a thin, metallic box: The one thing that keeps you connected to life outside of your own and to the pulse of the digital world—anywhere, anytime.
Sometimes, as a college student, you just can't help it. In the middle of a class discussion, whether you feel a notification buzz in your pocket or are just plain bored, you'll have the urge to bring out your phone and scroll through your social media or fiddle with other apps. It's become a natural habit many of us are guilty of, and admittedly even done during the most inconvenient times.
But our smartphone habits aren't all that bad. Being tech-savvy and digital-dextrous, especially for our generation, can work to our advantage and help us work smarter, not harder.
While most profs might think that the use of mobile phones in class is more of a distraction than a learning tool, they can actually keep you engaged in class—it's only a matter of knowing how and when to properly utilize them! Here's how:
1. Creating online group chats.
Mobile messaging apps are not just there for you to be able to plan your hangout with your blockmates, or to make kuwento with your girls when your crush asks you out. You can also create a group chat with your prof to keep up with class projects and assignment deadlines or to clarify any issues about your lecture notes.
2. Using a timer for a more productive study time.

So you're not the best at staying focused when studying. We can't blame you. There are way too many things out there that are just begging for your attention—a dog performing CPR? Where?!
If you're still reading the same line over and over on your textbook, try the Pomodoro Technique, so your mind doesn't wander off when you think you have so much time to spare. Set the timer on your phone to 25 minutes for a short study period. When the timer goes off, take a five-minute break, reset the timer, and continue studying. After four sets of 25-minute study periods, reward yourself with a 20-minute break, then hit the books again.
3. Playing music for better focus.
When you're stressing over projects and exams, it's time to play some music to calm your nerves or pump you up to work. Classical music and ambient or nature sounds are good choices for the former. For energy, play EDM music, preferably songs without lyrics and with a moderate tempo. Music has been found to keep you focused longer and help you retain information better.
4. Downloading productivity apps.
Apart from addictive gaming apps that range from word puzzles to open-world survival games, app stores have also gifted us with project management software right on our phones. If you're not the type to take notes on a planner, try a productivity app for recording your tasks and staying up-to-date with all your deadlines.
5. Capturing the important stuff.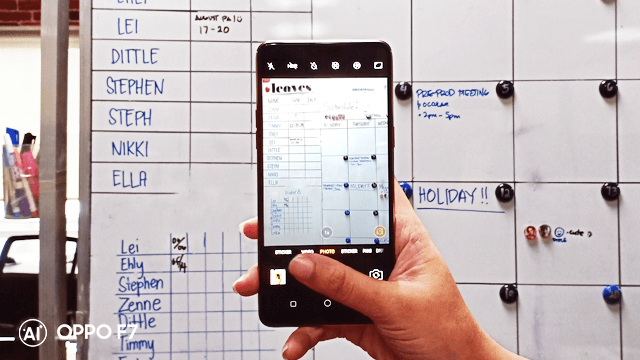 If it weren't for built-in cameras in our phones, we wouldn't be taking so many photos so often. Whether it's selfies shot from every angle or a jump shot that took 27 takes, we've made certain moments worth remembering, even if it was just one sunny day and a three-hour-long break. Defining moments in your college life are well-worth documenting, but creating audio notes by using the voice recorder on your phone to help memorize information much easier and taking snaps of lecture slides makes studying so much more efficient. Here's a pro-tip: After documenting lectures with your phone, revisit those slides and audio clips to write your own notes to make sure you understand the lesson.
Live your college life to the fullest and in high-definition with the new OPPO F7. It has an impressive 25-megapixel front camera with AI Beuaty Technology 2.0 that's perfect for those #wokeuplikethis selfies, a 16-megapixel rear camera, and a 6.23-inch FHD+ Super full-screen display. Check it out in Solar Red, Moonlight Silver, and Diamond Black.
For more information on the F7, visit the OPPO website and follow them on Facebook.