Discord is a chat and call application that was originally created for gamers, but has steadily grown in popularity even among non-gamers. It's one of the most ideal platforms for online classes, with its voice calls taking up less data compared to other platforms. A lot of people find it intimidating, though, and we get it. Discord does have helpful features, but there are still too many of them for the non-tech-savvy student to get the hang of in a short amount of time.
If you are one of those people who are looking to study better but are still intimidated by Discord, don't fret. You know what they say is important when it comes to learning something new? Baby steps. You can start by setting up your personal study room, and here's how.
Make a server for yourself
For first-timers, Discord servers are probably the most basic thing you'll learn among the software's many features. Servers are communities on Discord where members can chat, call, and share content with each other. It's common for organizations and friend groups to hang out on Discord servers, but you can also create a server to better help you with studying!
ADVERTISEMENT - CONTINUE READING BELOW
ADVERTISEMENT - CONTINUE READING BELOW
To do this, you can click the plus (+) sign on the left side of the window. 
Organize your files 
Once you've built a study server for yourself, you'll immediately see that there are text channels and voice channels. How to make the most out of them? Turn the text channels into how you would organize your files. For example, you can create text channels based on your classes for the semester. There you can send files, create lists, etc.! The possibilities are endless.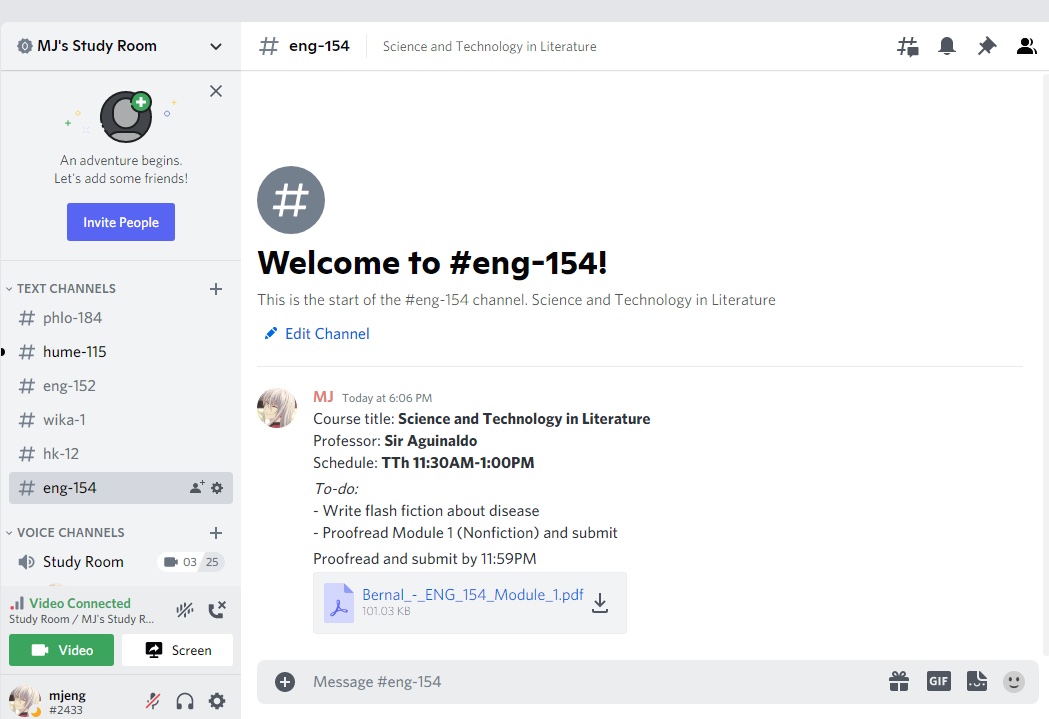 ADVERTISEMENT - CONTINUE READING BELOW
Invite your friends
If you're someone who can't study alone (or even if you just want to procrastinate with your BFF), you can invite a friend to your server. 
If you want to hide some of your text channels from your friend, you can also limit their access. To do this, right-click on the specific channel, then click Edit Channel > Permissions > Private Channel. It should look like this: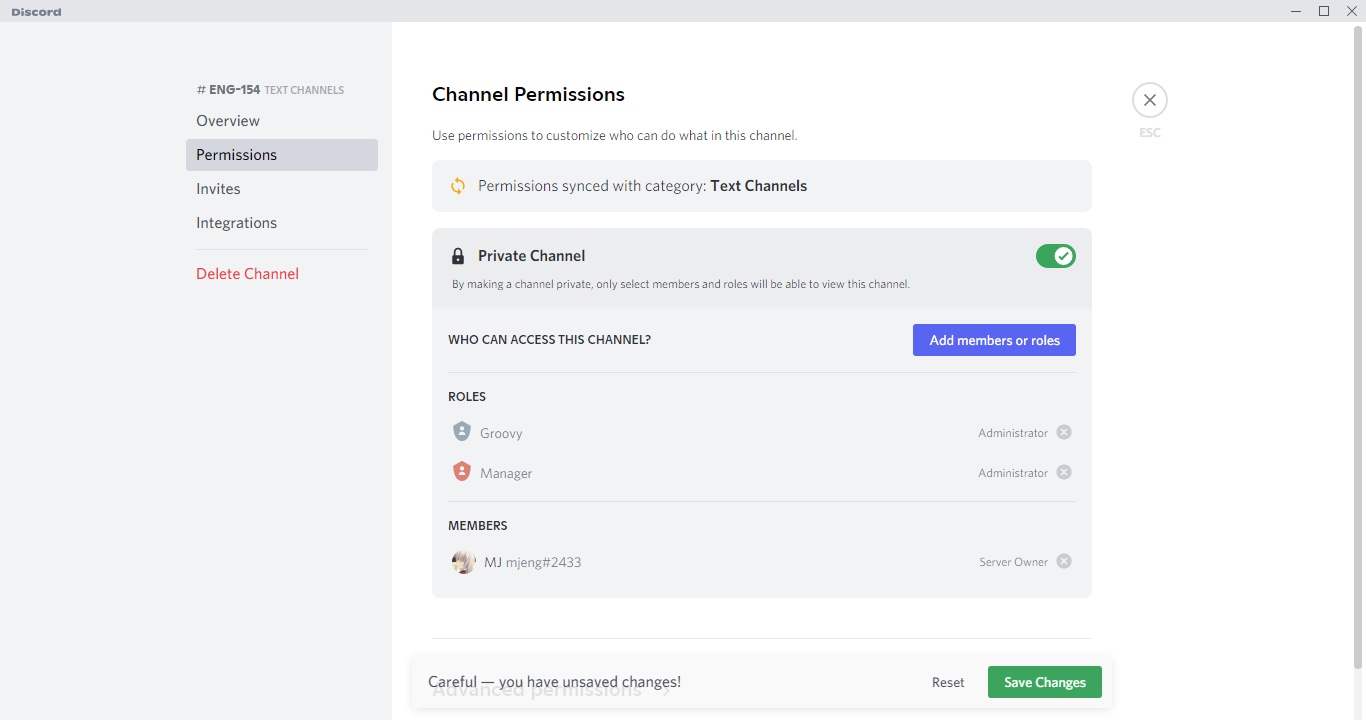 ADVERTISEMENT - CONTINUE READING BELOW
Play your favorite study music ad-free
A few days ago, on August 30, 2021, Discord users had to say goodbye to Groovy. Groovy is a listening bot that has been used by more than 16 million servers worldwide since it was introduced five years ago. It can play for you any music from YouTube, Spotify, and Apple Music (a definite perk for people who don't have Premium accounts!).
No worries—there are still other music bots in operation. One of them is Rythm, another giant music bot. It's not too different from Groovy, though it takes up more space in text channels. To use this bot, invite it to your server/s of choice through this link. Join any voice channel under your server, type "!play (song title/link)" in a text channel, and voila! Enjoy your hassle-free listening experience.
Take much-needed breaks using the Pomodoro method
One of the study techniques students swear by is the Pomodoro method, which involves focusing on a task for twenty-five minutes and taking a five-minute break before the next task. This technique also feels rewarding, because once you've done 4 pomodoros in succession, you can take a longer break! Don't want to bother yourself with setting up a timer and such? Lucky for you (and for us, TBH), there's a bot for that!
ADVERTISEMENT - CONTINUE READING BELOW
The Pomomo bot helps you stay focused--yes, even for those with a goldfish attention span like myself. Once you join your voice channel, activate Pomomo. The little tomato will keep you company in your voice channel, alerting you with a reminder once it's time for your break.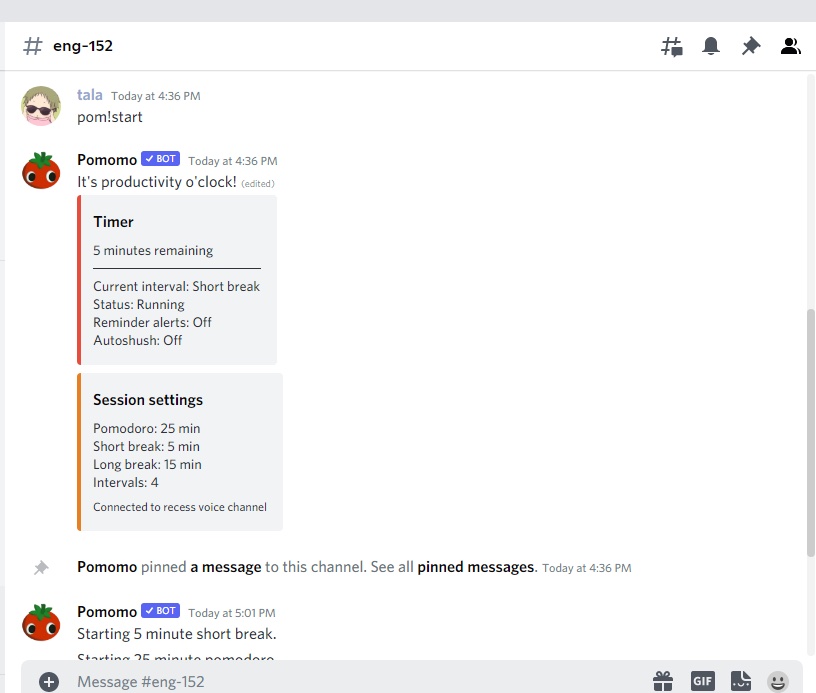 Bonus: Join public study groups
Speaking of servers, there are public servers which anyone on Discord can join. If you are one of the students who couldn't study without going to a cafe or library, you might find comfort in these public Discord servers. There are a lot of international ones, but if you prefer seeing fellow Filipino students on your screen, The Study Group PH's server is the one for you.
ADVERTISEMENT - CONTINUE READING BELOW
It might feel uncomfortable at first, seeing a bunch of strangers on your screen, but once you get used to it you might actually not want to study alone at all! The best thing about public study groups? No one is there to distract you with chika and seeing other people work can actually boost your own productivity!
READ MORE:

Pinoy Streamer's Discord Tutorial on How to Conduct Classes with Less Data
This Fan-Made 'Study With BTS' Video Could Be Your New Study Buddy
I Tried Joining a Zoom Study Group With Strangers, Here's How It Went
This Google Chrome Extension Will Remind You to Take ~Constant~ Study Breaks
#WATCHCANDY: Subscribe to Candy Magazine on YouTube and follow @candymagdotcom on Tiktok for guides to college life and beyond.
Candy is now on Quento! Click here to download the app and enjoy more articles and videos from Candy and your favorite websites!