Halloween is just around the corner and if you haven't been raiding Pinterest for costume ideas, what is wrong with you? we have some easy stuff for you and your besties to recreate. We promise, these are no-brainer costumes, which you already probably have in your closet. (via huffingtonpost.com)
The Black-eyed Ps
ADVERTISEMENT - CONTINUE READING BELOW
Keep your pun and costume games strong with this very simple costume idea! All you need are an all-black ensemble, some eye makeup, duct tape, and your BFF, of course! 
Dunkin' Donuts. Literally!
One look at this costume is all it takes for people to figure out what you and your BFF are dressed up as. And it's pretty simple to pull off, too! Cover two ring floaters with donut frosting made of paper (or better yet, use a donut floater) and wear them over a basketball outfit. Don't forget to bring a ball each wherever you go.
ADVERTISEMENT - CONTINUE READING BELOW
Pizza/Delivery
Cardboard-cut your way to Halloween this year by going as a slice of pizza and a delivery gal. Cardboards are pretty easy to find so all you need to focus on are the design and painting aspects, which can be a fun bonding experience for your and your best friend.
ADVERTISEMENT - CONTINUE READING BELOW
Best Friend Pendants
What better way to celebrate Halloween and your being besties than by going as the very epitome of childhood friendship—best friend pendants! It's simple and easy to do, but highkey unique!
Lady Emojis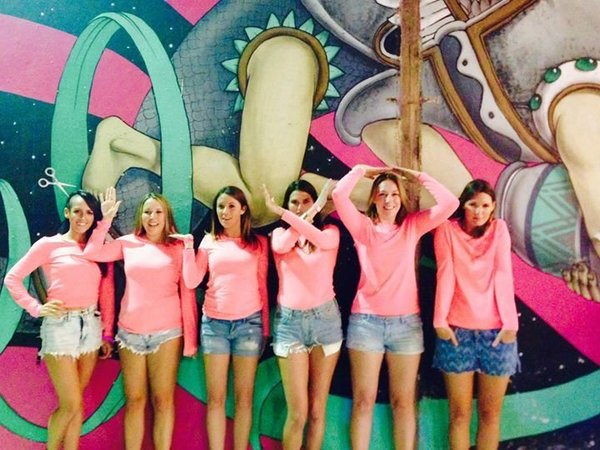 ADVERTISEMENT - CONTINUE READING BELOW
What a time to dress up for Halloween with all sorts of emojis you can recreate! And, no, we're not referring to the twinsies emoji. We're talking about the lady emojis that sport different actions and facial reactions. All you need are matching pink long sleeved shirts and your barkada is all set! 
Now that you have costume ideas for the Teen Con on October 29, we'll expect to see you there, Candy Girls!