Lifestyle
15 Things Creative Crafty Girls Know To Be True
Are you the Martha Stewart of your barkada? If you're the crafty one in the group, everything on this list will totally make sense to you!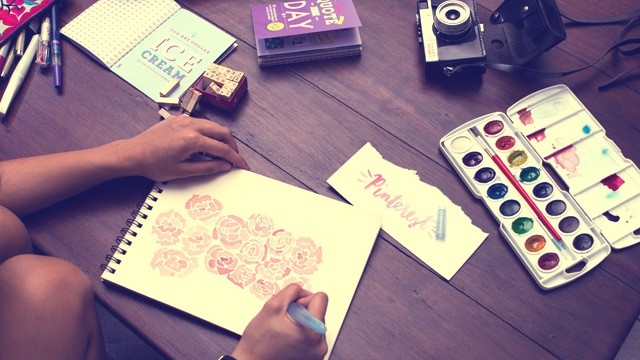 Crafting is no longer left to old ladies on rocking chairs. Behind those crochet needles and calligraphy nibs, are Candy Girls like you and me! If you can relate to any of these, then you're definitely a crafter through and through.
There's more to color than just ROYGBIV.
We see the subtle differences between the million shades of the rainbow. Trying to explain the exact hue you want is always a struggle. I mean, you know that sea glass turquoise tint that's a cross between tiffany blue and ocean teal, right?

We love color, and that can get expensive.
Have you ever tried walking away from that Sharpie display with only one marker in hand? We have this problem of buying a favorite tool in all colors available. We just can't help it!

There's more to travel than sight-seeing.
We're just as excited as everyone to add a stamp to our passport. For crafters though, being a tourist means hitting up local art shops and specialty craft stores.

We don't quite know how to hold the purse strings.
There's no such thing as window shopping, unless of course we're shopping for windows. When it comes to more pens, nibs or notebooks, it's really hard to say no!

Don't offer us any freebies. We take in all strays.
The only answer to the question "Do you have a use for this?" is "Of course!" We may not have a use for it now, but we'll definitely find one later.

We don't procrastinate. We procraftinate.
Yes, yes, I know I have a paper to write. I'm just doing some lettering for inspiration, and to help break this writer's block. It should work. Hopefully, before the paper's due!

We lug around much more than we'll ever need in any given day.
The reason our bags are so huge is because we carry all the things we think we might need. Don't ask me if I have a pen, of course I have one. What color did you need? An ultra-fine tip one?

Chipped polish is the look I was going for, yes.
Crafter hands go through a lot. Polish can't withstand all the paper folding, stamp carving, and calligraphy ink dipping. Choose between perfectly manicured nails or doing what we love? We think the answer's pretty clear.

We have an insatiable need to hoard notebooks.
There's no leaving home without a notebook. Hey, you never know when the next great idea will hit you. With a bit of luck, we'll remember in which notebook we wrote that brilliant project plan in.

"I have enough yarn/thread/pens/washi/paper/nibs/watercolor/ink," said no crafter ever.
You know that feeling of standing in front of your closet, feeling like you have nothing to wear? We always feel like we're all out of good craft supplies. #CrafterProblems, for sure.

Organizing your craft room is like getting sucked into a black hole.
Organizing your stash is nearly impossible. While fixing a section of your workstation, you're bound to unearth something you haven't used in a while. Refer to procraftinating above.

We're tickled pink by the thought of a beach trip.
Beach trips get us all excited, and not for reasons you might think. We think that sand and sun make for perfect crafting weather. We don't need to take a dip in the water. Knotting a friendship bracelet in a hammock on the shore is our little pocket of heaven.

Please don't ask us to price what we make.
We love making stuff for friends. We'll make you a bag, a scarf, a work of art. Whatever you want, we're all for it. Just don't make things awkward by asking how much it costs. It's hard to put a price tag on anything handmade.

Who needs yoga when you can craft?
Some days are tougher than others. We craft away stress or the blues with some alone time, one stitch at a time.

We have a barkada, and also a circle of crafter friends.
We love our besties, but we also love our crafter friends. These kindred spirits speak our language and get our silly crafty quirks like no one else could!
Are you into crafting? What other things are you obsessing over? Let's dish!
From consistently badmouthing another friend behind their backs to making snide comments sneakily disguised as compliments, here's how to deal with a tricky friendship.
From sisig to bulalo, the North has a lot to offer.
Even college students like us can apply for freelance creative jobs while we're still going for that diploma!
These simple practices, when done consistently, end up being worth a lot.
It can actually *shatter* your cartilage.
Bordeos becomes meat of online talk while helping out in family's meat business.
From her gowns down to the décor and food!
Trish is part of Candy Rookies 2020, a group of influential and aspirational college students handpicked to represent #GenerationCandy in the year to come.
The more ~chill~ spots around UST might be more of your scene.
Bea is part of Candy Rookies 2020, a group of influential and aspirational college students handpicked to represent #GenerationCandy in the year to come.
This list compiles the city's tried-and tested music recording studios you'll want to check out.
Students from Humanities courses speak up.