Lifestyle
15 Sweet Thoughts to Remember
Read on for cute quotes in time for love month.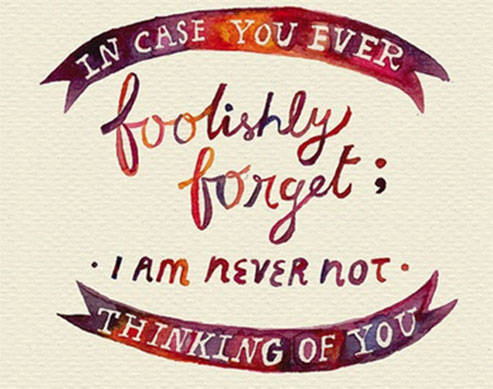 Unsure if you like a person? There are some ways to find out, including symptoms of being helplessly in love, understanding what that feeling is and what it means!
One True Love
The person who makes you feel special everyday is a keeper!

For the First Time
Rereading the Twilight Series and finding powerful quotes like this one are worthy treasures!

Beautiful Music
Not sure if you like a person? If their voice makes you happy and makes your heart beat faster, chances are, you do!

Dreaming of You
Love symptom #1: Thinking about that special someone 24/7, literally so that the person appears in your dreams!

Carpe Diem
We're all about seizing the day, but one of the quickest ways to make it instantly better and fulfilled is when you see your crush!

Home is Where the Heart is
The feeling when you're safe and content in a long embrace is one of the best feelings in the world!

Sitting Next To You
When silence is more powerful than words and just being with them makes you overjoyed.

Don't Forget
When you hope they think about you just as much.

In Neon Lights
Sometimes things are unexplainable when you're in love and you see that special person in a whole new light!

Healing Embrace
One of the best things about having someone to love is their ability to make your past and present okay, and give you hope for the future.

Hands Intertwined
Don't ever think that you won't ever fall in love or go rushing into a relationship for the sake of actually having one. Let time guide you and your partner as you prepare to meet in the future.

On Sight
Finding what you've always been missing in your entire life!

Love Songs
Listening to songs and finding new meaning to them once you're in love!

Favorite Moment in Time
Reminiscing about the first time your first met, and all the other times you spent together.

Candy Girls are the Best!
Any guy will be so lucky to have a Candy Girl, because she's fun, smart, brave, and passionate!
More Hyun Bin content coming our way!
Makati has plenty of heritage and culture.
These are the styling mistakes you're probably making.
It's the new takeover trend in food.
You might be rekindling an old relationship, but you also wouldn't want to cut ties with other people in the process.
Craving that crispy CLOY goodness?
One college student shares her experience of being a former working student.
The network's franchise is set to expire in March 2020.
It's okay if you don't have life figured out yet.
Stress is short-lived, but your friendship is forever.
Sit back, relax, and get ready to binge!
Here are the different fragrances that the country's leading men wear.