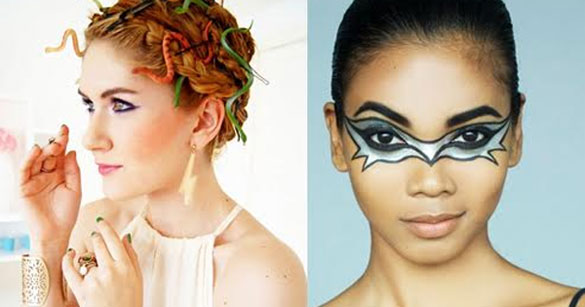 1 18 DIY Halloween Makeup Looks
Bust out your makeup kit and face paint to create awesome looks from this pin. Try out the characters from Inside Out and come as Joy or Sadness to a party.
These costumes will need some prep time but you can wing it by making your own adjustments. Notable to mention, you and your BFF can try the pizza and donut outfits, which are so cute!
Braid your hair up and bobby pin snake toys to create Medusa's hair. You can also paint the toys gold or black when you have more time.
4 Mermaid
Head down to your nearest fabric store and grab the most sparkly or most sequined teal cloth you can find, instructions from this pin.
An easy outfit for couples come as a pair of robbers with striped shirts, black pants and beanies which you might already have.
ADVERTISEMENT - CONTINUE READING BELOW
Throw on this no-sew DIY spider web cape and pair it with a black dress for a put together look.
Create a simple wind-up key using cardboard and paint, with a simple white lace dress you can turn into a pretty wind-up doll.
ADVERTISEMENT - CONTINUE READING BELOW
8 Bat Girl
Create a bat themed beauty mask using eyeliner and silver eye shadow.
Turn yourself into the scary undead with the help of dark eye shadows and some black lipstick, now all you need is a Zombie husband or some bridesmaids.
Glam up your black outfit by drawing on spider webs on your lids and cheeks, add some rhinestones to create a sultry effect. Tutorial in the pin!
11 Olaf
Plus many other looks from Bethany Mota and other teen gurus to help you create easy outfits like Agnes from Despicable Me or Lilo from Lilo & Stitch.
ADVERTISEMENT - CONTINUE READING BELOW
Try some word play and dress up as Rappers, but stick on candy to your grunge, hood outfit so you can tell people that you're a candy rapper, get it? Don't let people steal your candy!
You can still pull off looking like Alice, Cher or Sandy from Grease with the right pieces!
14 Scarecrow
With a plaid shirt, blue jeans, and some fake or real sun flowers as props, you can turn yourself into a scarecrow! But a cute one, check out no. 1's link for a makeup tutorial.
15 Tea Bag
Show your love for tea and come as a life-size tea bag, customize to your fave flavor. Use a cheap tea pot as props.