Lifestyle
15 Cute Crafts Proudly Made By Pinoys
One way you can celebrate Independence Day this weekend is to salute Filipino talent, creativity, and craftsmanship by supporting local artists and craft collectives.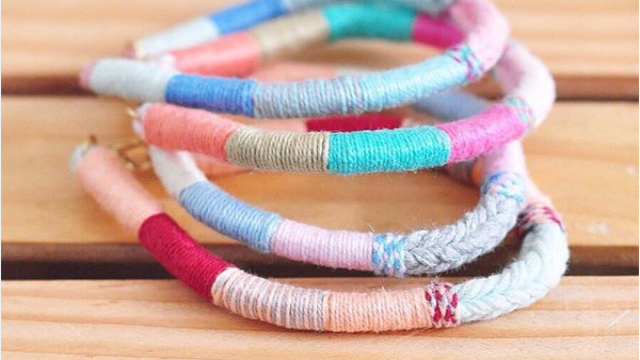 Cut The Scrap makes miniature jeepneys out of scrap wood. They look handsome as is, but feel free to unleash your inner artist and paint or doodle on them!
Illustrator and graphic designer Luchi Tungol's food sticker packs are deliciously pretty.
ADVERTISEMENT - CONTINUE READING BELOW
Made with wood and leather scraps, these tiny luggage keychains from Alunsina Handbound Books make us want to pack our cases for a weekend getaway.
Milk Collective artist Noni Devora's hand-painted pouches have the prettiest patterns and color palettes!
ADVERTISEMENT - CONTINUE READING BELOW
Discarded shirts are upcycled in Davao to create these colorful bracelets from Olivia & Diego, a social enterprise working with human trafficking survivors and stay-at-home moms.
Artsyology's cute button pin sets feature various themes such as travel and pop culture.
ADVERTISEMENT - CONTINUE READING BELOW
These dainty little benches from PS Crafts With Soul are actually "storage chairs" that can hold your earrings and other tiny knick-knacks.
Tish Hautea of Sqooid uses hand-carved stamps to create these darling drawstring bags.
ADVERTISEMENT - CONTINUE READING BELOW
Pop Junk Love's felt sunflowers instantly brighten up a space—and they won't ever wilt or die!
These pint-sized pineapple magnets by Hearty Crafts are super kawaii.
ADVERTISEMENT - CONTINUE READING BELOW
Stock up on artist Ella Lama's illustrated notepads before the new school year starts!
Cacti and succulents in dinosaur planters look both fierce and fun. Rawrsome idea, Jurassic Pot!
ADVERTISEMENT - CONTINUE READING BELOW
Cat ladies and bookworms alike will love these mini notebooks from illustrator Marcela Suller.
Go old-school with Cooouch's handmade pins, which hark back to pop culture—especially Pinoy pop culture—in the '90s!
ADVERTISEMENT - CONTINUE READING BELOW
Toothy monsters, anyone? These cute creatures from Knitting Expedition are hand-knit by women the Ifugao region.
How much should we rely on them to capture our personalities?
Guys, it wouldn't hurt to add a twist to your go-to look!
Shop with an advocacy in mind!
Is IF advisable for a college student's busy lifestyle?
"Planado na, booked na ang trips."
Share your routines, too!
The next Miss Universe Philippines is said to receive the biggest cash prize in the history of Philippine pageantry.
While there is still a long way to go, it's become so much easier to find like-minded people who share the same cause.
It's a game for those who love to play around and break the rules.
Truth is, you don't need to spend a lot to achieve the feed of your dreams or build your portfolio.
Now's your chance to give back.