Lifestyle
12 Signs You're the Travel Guru of the Barkada
You might as well live on a plane.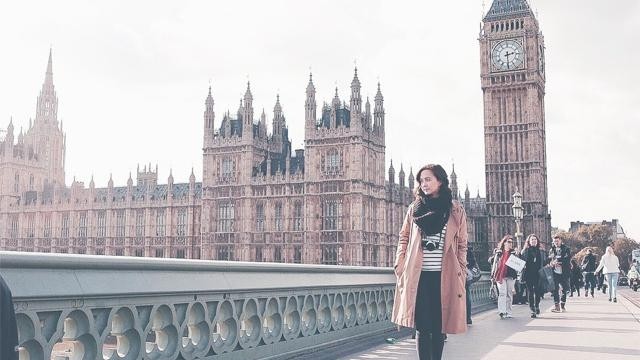 IMAGE Camie Juan | instagram.com/camiejuan
"We all have that one friend who..." This phrase is always so fun to complete. It immediately makes you think of your friends, mainly because a barkada can consist of different and dynamic personalities that oddly mesh together. There's always going to be the fashionable one, the funny one, the quiet and shy one, the smart one, the talented one, and so many other characters, but that's what make it twice as fun.  Oh, and there's always that one friend who likes to travel A LOT that she's earned herself the "Travel Guru of the Barkada" title. You probably have that friend or YOU might be that friend! Want to know if you're the ultimate jetsetter of the squad? Then just keep on scrolling.
You have a travel blog.
ADVERTISEMENT - CONTINUE READING BELOW
CONTINUE READING BELOW
Recommended Videos
You love to travel and you feel that the internet needs to know it. You happily share all your traveling stories and traveling tips in the blogosphere. You've ventured into making travel video diaries and traveling playlists as well. This alone, already proves you're a travel guru.
Your Instagram feed gives your friends major wanderlust.
ADVERTISEMENT - CONTINUE READING BELOW
What better way to show everyone that you've basically traveled everywhere other than Instagram? You've completely mastered that art of documenting your travels through taking well-curated photos for IG that your feed makes anyone who sees it, envy. The usual subjects of your photos: the view or YOU. Your shots of sceneries are breathtaking plus your #OOTD shots are on-point. You take anyone on an adventure just by scrolling through your feed.
Your homepage might as well be Airbnb or Skyscanner.
You're always on the lookout for flight and hotel promos that you find yourself being a bystander at websites like Airbnb and Skyscanner. Oh and when you catch Cebu Pacific's piso fare? You grab that flight—wherever the destination may be. All you care about is that you're about to embark on another adventure for a very cheap price. And that alone, makes you extremely happy.
You take advantage of almost every break from school.
"Long weekend? Road trip!" This is you every single time. Even the shortest break from school makes you want to be on a getaway. Heck, maybe you've even plotted all the long weekends and vacation all year round and you plan your trips around that schedule way ahead of time. You're just a travel addict like that.
ADVERTISEMENT - CONTINUE READING BELOW
Your love international cuisine.
One of the things that make you a certified travel guru is that you've tasted the world. You're never picky when it comes to food in other places. You're always up to taste something sweet, spicy, and tangy or everything at once. You've become an international food junkie.
ADVERTISEMENT - CONTINUE READING BELOW
You don't go to cliché traveling spots anymore.
You've traveled so much that you find the iconic traveling spots boring already. Now, whenever you travel, you research underrated but still travel-worthy places to go to. Plus, you get to avoid crowds and really get the most out of your traveling experience.
ADVERTISEMENT - CONTINUE READING BELOW
You're a walking GPS.
You're the ultimate tour guide of your friends whenever you all go on a trip together. Especially if you're taking your pals to your fave places, then they won't definitely need Waze if they have you. You know the directions very well since you've traveled well enough to be familiarized with certain locations.
You have all sizes of luggage.
ADVERTISEMENT - CONTINUE READING BELOW
You have small ones for a long weekend trip, a medium-sized luggage for a  3-day, 2-night vacation and big one for when you travel out of the country. Yep. For a travel guru like you, one luggage just isn't enough.
Your passport is filled with stamps.
Need I say more? These passport stamps give you the ultimate bragging rights. This is solid proof that you've traveled well enough.
ADVERTISEMENT - CONTINUE READING BELOW
Your fridge is filled with souvenir magnets.
As funny as it sounds, it actually kind of true. When you first started traveling, this is probably what you aimed to do: to fill your fridge with magnets you get from different places. Also, whenever people come to your kitchen, they would immediately know you're one heck of a travel guru.
You have a wide range of swimwear and coats.
ADVERTISEMENT - CONTINUE READING BELOW
Geared up for the summer, for winter, for fall and for spring. Name a season and as a travel guru, you'll surely have a wide range of clothing choices up your sleeves. You've unconsciously collected swimwear, coats, boots because of how frequent you've traveled to places with different weather conditions. But most importantly, you know how to pack them light.
You've traveled alone.
ADVERTISEMENT - CONTINUE READING BELOW
To be able to call yourself a travel guru, you must have experienced traveling alone. And you've chosen to travel alone because it's surely part of your bucketlist. For you, traveling alone entails a sense of bravery and maturity that you want to achieve or at least feel. It opens you up to new experiences that you bring with you even after you come back. This tests your ability to adapt, learn and discover not just something about the place but also something about yourself.
So, you think you're a travel guru?
Facebook is allegedly collecting unauthorized data for market research.
They'll fit right into your #aesthetic home study area!
From light-hearted rom-coms to musicals.
She's set to star as the young Gabbie Salazar, originally played by Shaina.
We're keeping her tips in mind!
Proof that Ivana has a heart of gold.
Pagdating sa skincare, stick to one ba dapat?
In the public eye, at least! As Janella once said, "Masaya but I just don't want to share a lot."
It aims to help 500 jeepney drivers from Rizal.
Pretty sure you already have it!
From The Candy Bulletin Community