Lifestyle
12 Embarrassing Medical Moments
Feeling under the weather? This week's Oops is the best prescription to cure any down day!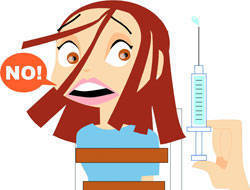 compiled by Thea Napa and Karla Pastores * illustration by Ben Deluyas
Fiddle Needle
I have always been afraid of injections. Once, the doctors needed To take my blood sample (which obviously involved a needle). I got so scared as the doctor approached me that I started screaming and flailing my arms all over the place. I reacted so wildly, they had to strap me to a stretcher! Once my arms and legs were secured, several doctors and nurses approached me to insert the needle and draw out some blood. they all agreed I was the most difficult patient they've ever had! —Reina, 17


Poxy Lady
We were having our choral recitation practice when I noticed about a dozen pimples on my face. I was used to having pimples, but not as big as the ones I had at that particular time. I was horrified when I saw that my shoulders had huge zits, too! I was so bothered, I excused myself to go to the school clinic. I had the school physician check my pimples. I even told her embarrassingly that I've never had such bad skin before. The physician, trying hard not to laugh, calmly told me they were not pimples but a bad case of chicken pox! Oops! Everyone around us kept suppressing their giggles! —Oryza, 13


Mama Mia!
I accompanied my mom and baby sister to her pediatrician. She was due for her shots. My mom had to use the rest room so she asked me to look after my sister while we awaited her turn. When we were called, my mom was still nowhere in sight, so I decided to bring my sister inside the doctor's room. The doctor asked me a couple of questions regarding my sister, and I answered him politely. I thought I was doing fine until he started asking more complicated quessies. Apparently, the doctor thought I was my sister's mommy! Geez, he actually thought I was a mother already!?! —Vanessa, 15


Pins And Needles
I had a pancreatic complication, and I needed to be confined in the hospital. The nurse explained to my mom that she needed to inject the dextrose needle into my arm. Since I was really afraid of needles, I couldn't look while she was doing the deed. A few seconds later, I felt a sting. When I turned to look, the nurse told me that the needle broke! They had to repeat the entire process. To my astonishment, the needle broke-again! I couldn't believe it. I was screaming and wailing! Thank God the needle was injected properly on the third try. I would have fainted from all the exhaustion and trauma if it had broken again!-Rjox, 19


Band & Snap
During my monthly dental check-up, my orthodontist needed to remove the elastic surrounding my braces. She pulled on it so hard, the elastic ended up at the back of my tongue. To hide my embarrassment, I decided to swallow it! When she asked me where the elastic was, I just replied "Ah, eh... ewan ko po." She kept looking for it on the floor. Needless to say, she was astonished at its sudden disappearance! —Stacy, 16


Intern-Off
once, I was assigned to intern in our school clinic. I was excited because it felt like a real job, but at the same time, only a minimum amount of work was required of me. boy, was I wrong! my first duty was to carry a sickly boy's heavy bag and books to his school bus. After practically looking like his yaya carrying all his stuff, I started having rashes all over my arms. They were so itchy!!! turns out, It was "higad season" and i was a victim of the creepy crawlies! —Itchy, 16


Internal Damage
During one of my dental check-ups, I was recovering from a bad cough and a cold. While the dentist was cleaning my teeth, I suddenly felt the urge to cough. I tried my best to control it, but I couldn't. I coughed up a huge amount of phlegm coupled with saliva! Of course, my dentist noticed, and politely asked me to rinse my mouth. That must have been a yucky experience for her. —Lauren, 13


Caught "Undie" Act
My family went to the hospital to visit an uncle who was ill. The room was full of people-some were faces I didn't recognize. Later, I had to go to the toilet. When I came out of the bathroom, I walked back to where my dad was seated. Suddenly, I felt one of my guy cousins tug at my skirt. Turns out, it got caught in my underwear! My panty was exposed for my whole family to see. —Ami, 15


Butt Of Jokes
My mom had to rush me to the hospital once because I was having a hard time moving my bowels. The doctors, not knowing what caused it yet, decided to perform a rectal exam. This required inserting a rod-like instrument inside my butt. A very tiny camera was attached to it which allowed me-and everyone else inside the room-to see my butt on video. I was so embarrassed because my mom saw the whole thing, too. Oh, did I fail to mention that I was a 24-year-old guy when that happened? Sheesh! That will go down in history as my most dyahe moment ever! —Chris, 25


Sore Loser
During our scouting induction, I knew we were going to have loads of games, so I came prepared and brought all the necessary items for the challenges. The first activity was a scavenger hunt. We had to work quickly and find the stones that had clues to the treasure. I wanted to win so I kept running around the grassy field. Suddenly, I tripped over a rock! I hurriedly got up, but blood started flowing from my deep knee-cuts. My friends had to escort me to the cute medic to have my knee treated. I was thinking that falling wasn't such a bad idea until the medic suddenly poured alcohol on my open wounds! I screamed sooo loud and cried in pain, I'm sure everyone heard me! So much for wanting to win the game-and the medic's heart! —Tin, 19


Butt In
I needed to see a proctologist once because I was suspected to have hemorrhoids. Good thing my mom's ka-barkada specializes in that field. So I went to see her for a "butt check-up." That time was also prom season. And since I was desperate to find a date, I agreed to be set-up by my parents. I had no idea who my date was going to be; all I knew was that he was "a nice boy," according to my mom. She arranged a pre-prom dinner for both families, so that my date and I could get acquainted before the big night. During the dinner, I had a queasy feeling when I saw my mom's doctor friend at the dining table. After asking me how I was (alluding to my hemorrhoids), she turned to introduce me to my prom date-her unico hijo! Ack! I no longer wanted to go through with dinner-and the prom! —Laurie, 16


Hyde & Sick
I felt nauseous so I went to the college clinic to get medication. The friendly nurse asked me to write my name in the record book while she searched for the right medicine for me. Seconds later, boom! I suddenly puked on the school nurse's pristine white uniform! The friendly, cheerful nurse immediately evolved into a mad lady! I guess she was really furious at me because she didn't even bother handing me the paracetamol.  —Christian, 23
\\\\\\\\\\\\\\\\\\\\\\\\\\\\\\\\\\\\\\\\\\\\\\\\\\\\\\\\\\\\\\\\\\
Get the latest updates from candy!
subscribe to our newsletter!
////////////////////////////////////////////////////////////////
How to be good to your skin AND your beauty routine!
Flawless face at an affordable price!
Oh, we've all been there!
BRB, raiding the ukay shops near UST!
Before the season 2 premiere of Stranger Things, we got to hang with some of the old gang and a pair of brand new strangers making their debut soon. Read all about it here!
Score great hair from Monday to Friday next week.