Lifestyle
11 Things You Should Do When in A Different Country
Sometimes you have to stop being a tourist and start being a true-blue traveler.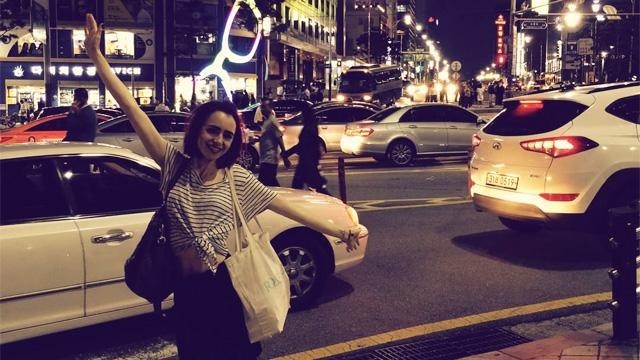 IMAGE Lily Collins | instagram.com/lilyjcollins
Going around a different country and visiting all the tourist spots is already a given when you're in a different country. If you're currently planning your travels this year and are looking for something different and less predictable to do, check out this list of things you should do when in a different country! We're pretty sure you'll have a great time doing all of these with your family or friends!
Try their street food!

Food is definitely something we all look forward to when traveling. When in a different country though, make sure you get to try their street foods for a complete experience! Don't be afraid to try things that sounds new to you. Be open and you might just have a new favorite! 

Talk to the locals!

Knowing basic phrases in the country's language is something we all prepare for before our trip.

But what use does it have if we don't even try speaking it, right? Gather your courage and speak their language! They might stare at you or reply to you in English but just laugh it all away! Talking to the locals is a great experience and you might just get good recommendations on where to shop, eat, or drink!  

Go to a local market.

Test your bargaining skills and score some great deals at the local market. Whether it's clothes or food, you'll surely find something to bring home as pasalubong to your family and friends!

Eat authentic cuisine /traditional food.

Grab this chance to eat authentic cuisine from that country. As much as possible, try to stay away from food that you can get back home. Be experimental and try dishes that the country is famous for!

Visit the local's hangout spots.

While chatting up the locals, try to find out where they usually hang out. You can also do some research by reading up on blogs or searching the net. This is a great way to avoid touristy places and learning more of the country's culture and people.



Buy some souvenirs!

Don't miss out on buying what the country is known for! And please, please, please, stay away from refrigerator magnets! We're pretty sure that every country has something more special and useful to offer! 

Take public transportation.

While taking public transportation here in the Philippines is not enjoyable, experiencing a country's different mode of transportation is definitely something you should try! Not only is it cheaper compared to taking a cab but you also get to travel just like a local.

Document it!

With a lot of social media accounts to update, documenting your travels should be a piece of cake. This time around, however, why not take a different approach? There are a lot of other ways to document your travels other than posting on Instagram! You can compile videos and create a travel vlog, make a blog post with tips and tricks, or if you're feeling extra creative, why not draw and paint your own travel diary? The possibilities are endless! Just don't forget to live in the moment and not get too caught up behind the lens!

Do something you've never done!

Whether it's trying street food or going for something more extreme like riding the zipline, bungee jumping or even skydiving, make sure you create unforgettable memories in every country you visit! 

Get lost.


The thought of being lost in a different country can be scary for some but the truth is that sometimes the best moments happen during the least you expect it. So what if you get lost? Explore the area and you might just discover hidden gems! Be optimistic and view getting lost as an opportunity to create unexpected adventures and memorable stories! 

Leave your mark!

It can be a love lock in Korea, a prayer petition in Japan or a simple doodle on a freedom wall of a café but that simple mark you left in the places you've been to will surely make you want to come back again.
Aside from IU, heavyweight groups like BTS, BLACKPINK, TWICE, and BIGBANG are also on the list!
Both the shop and its drinks are too pink and pretty!
There are also useful tips for showering your cat and cutting their nails. #NEED
Who else is excited for an all new season of "Kingdom"?
It's honestly a pretty decent amount for extra income!
Here's a little guide to get you ready for post-college life.
More Hyun Bin content coming our way!
Makati has plenty of heritage and culture.
These are the styling mistakes you're probably making.
It's the new takeover trend in food.
You might be rekindling an old relationship, but you also wouldn't want to cut ties with other people in the process.
Craving that crispy CLOY goodness?