Lifestyle
11 Culture Shock Blunders
Warning: These embarrassing booboos may result in laughingstock boo-hoos.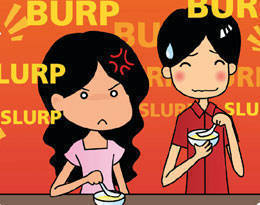 compiled by Crissy Azurin and Rubie Ganzon; illustration by Nicole Lim
He Loves Me... Not!
I met a Singaporean guy at a party. While chatting, I thought of getting a drink so I asked what he wanted. He surprised me by saying, "I'll just have a glass of water, love." I got so kilig, so when I came back, I said, "Here's your water, love." He gave me a puzzled look and said, "Love?" Moments after, I realized he was just using the Sing expression "lah" (not love)! –Corrine, 19

Sanitary Swap
I was having lunch with two of my American friends and we were talking about tampons. When I mentioned that I used napkins, they gave me a quizzical look and said, "Isn't that uncomfortable?" I answered, "I guess I'm just used to it." My friend asked if there was a certain folding technique for it, and then it hit me! They thought I meant table napkins since they call napkins sanitary pads in America. –Sarah, 17

Forget Means Regret
My friend invited me to a potluck party. My mom made her specialty, and because I was so excited to let everyone try it, I shouted, "Everyone should try my mom's special pork barbecue!" The crowd suddenly became silent... then it dawned on me that my friend was Muslim and pork wasn't allowed in their family! I felt so embarrassed so I gave out a huge sorry speech. Good thing my friend and her family members forgave me. –Lana, 17

Surprise Disaster
I was asked to be a host for a foreign exchange program. I found out I was hosting an Indian girl, so I bought her a bouquet of white daisies as a welcome present! When we met, I gave her the flowers... and she just burst out crying! She told me her mom recently died and that white flowers were given at Indian funerals, so she remembered her mom. I felt so awful. –Bianca, 16

Miss Interpretation
When I visited Japan, a tour guide entertained me and showed me the sights. While we were in a toy store, he suddenly handed me a gift box. He insisted I accept it, but I thought he was bribing me to do something for him, so I didn't get it and just walked away. Imagine my surprise when I got back and found out from my uncle that Japanese people give gifts as a sign of their friendship to other people. How mortifying! –Steph, 18
ADVERTISEMENT - CONTINUE READING BELOW
CONTINUE READING BELOW
Recommended Videos
Have you ever heard of the *Off-Facebook Activity* tool?
At The British School Manila, students use social media to foster a sense of belonging.
Here's a little throwback that will make your day!
The security issues detected "may have been actively exploited" by hackers.
"No matter how hard we tried to make it work, it wasn't meant to be."
Take your pick from this list of self-care apps and mood trackers.
It's happening in stores and online!
It isn't an easy feat even for the regular students like us.
In case you're curious about what kind of jobs are currently available in the market.
For when you're feeling adventurous.
You can spend Happy Hour watching the sunset!
From The Candy Bulletin Community