Lifestyle
10 Interesting Facts You Might Not Know About Christmas
#5 Someone banned Christmas and it's not the Grinch!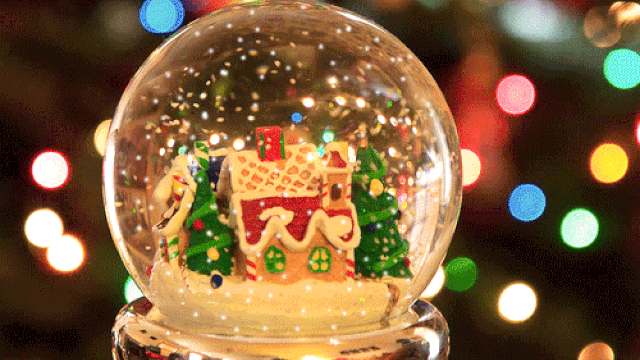 IMAGE giphy.com
Get to know more about the most wonderful time of the year!
Spooky Christmas
Telling ghost stories were an old Christmas Eve tradition in the past century that died out.
Santa Clause is real!
Well, the name Santa Claus comes from an actual person who is a Christian bishop from Turkey named St. Nicholas in the fourth century AD. Because he inherited a great amount of wealth, he was known for giving it away to help the poor. He is now known as the patron saint of children.
Ever wonder what the 'X' stands for in X-mas?
X is actually a Greek letter for "Chi," which is an abbreviation for the word that means Christ.


Someone just added Santa's beard.

During the 17th century, the Dutch introduced Santa Clause to America as a tall, slender and very dignified that doesn't have a beard. It was artist Thomas Nast who added the beard and his round figure in Harper's Weekly during the 19th century. (via thefw.com)
Celebrating Christmas became a crime.
English political leader, Oliver Cornwell, stopped the celebration of Christmas from 1647 - 1660. It was a criminal offense then, and anyone who's guilty celebrating Christmas was put behind bars.
ADVERTISEMENT - CONTINUE READING BELOW
Wassailing is another word for carols.
Carols started as an old English custom called wassailing, which is a toast for neighbors to a have a long life.
The world's bigget snowman is a snowwoman.
The people of Bethel, Maine, made a 122 feet, and an inch high snow woman named Olympia.  Dressed in 100 foot scarf, and had eyelashes from from old skins, Olympia broke the Guinness World Record for largest snowman.
Red, Gold and Green means something.
The age-old Christmas colors are symbols that also have a meaning behind them. Green, a symbol of life; red symbolizes the blood of Christ; and gold represents royalty and wealth.
Most couples break up two weeks before Christmas.
It is reported according to data gathered from Facebook that two weeks before Christmas is the most popular time for Couples to break up, we think the common culprit might have something to do with gifts. But Christmas day is the least popular time for couples to split. (via www.tomango.co.uk)
Mistletoe is actually a parasite.
For Christmas, mistletoe has been a European tradition of hanging in the house for good luck and ward off evil spirits. There is also the famous custom of kissing under the mistletoe. But did you know that the plant is actually a parasite that grows on trees and that it spreads by bird droppings? The name comes from the words 'Mistel' and 'tan' which actually means poo and stick.
ADVERTISEMENT - CONTINUE READING BELOW
How many of them did you already know? Share your thoughts with us in the comments!
Meanwhile, the number of confirmed cases in the Philippines is at 2,633.
It's okay to admit if you're having a hard time doing the one thing you thought you were good at.
All the outfits and props were just things found around their house!
"You wish to know where my true loyalties lie? Not with any king or queen, but with the people."
Kayang-kaya niyo 'to gawin at home.
And it's all thanks to low air and light pollution.
It's part of a dashboard that helps you monitor all the confirmed cases in the country.
With a load of cute behind-the-scenes footage, too!
Choco butternut cravings are now solved.
It was part of a class requirement!
Sadly, there's no law against catfishing in the Philippines.
Think of astrology as a language that helps you feel and be seen.