Lifestyle
10 Flavors We Wish Oreos Came In
Two new flavors have been announced and has got us dreaming up of other tasty ways this chocolate cookie could be reimagined.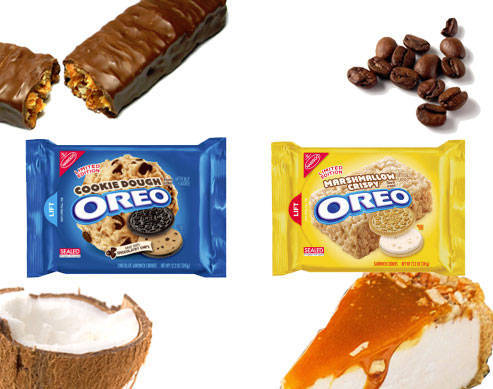 PHOTOS Oreo, sxc.hu
So Oreo just announced two new limited edition flavors, Cookie Dough and Marshmallow Crispy, and both sound really yummy. We wonder if these will ever make it to our shores before they disappear from existence?
It's not the first time the chocolate cookie brand branched out into different flavors, but it got us thinking, what else would taste good in between those round discs of chocolate (or golden vanilla) goodness?
1. How about a white chocolate cheesecake version? Golden vanilla cookies with a layer of creamy white chocolate cream cheese buttercream in the middle? Sounds really heavenly right?
2. Or maybe a Snickers-inspired treat with caramel and nougat in between the chocolate cookies with bits of peanuts mixed in. Sooo good.
3. For a little Pinoy flavor, what do you think of a coco jam filling? We can already imagine the sticky gooey mess we'll make attempting to pull it apart before dunking in a tall glass of milk.
4. In keeping with our Filipino theme, we would like to propose a Chocnut flavored cookie treat! They've once churned out a peanut butter one, so we're pretty sure this idea will fly—at least here in the Philippines! Make it happen.
5. Let's go classic with a S'mores edition. Marshmallow fluff with a swirl of chocolate and a graham cookie to complete the equation. Wiping drool off the keyboard as you read this.
6. Two words: salted caramel.
7. And while we're on the topic of "trending" flavors (haha), why not a red velvet Oreo? Red Velvet has a smidgen of chocolate in the ingredients so it can totally be a substitute for the cookie part. In the middle? Cream cheese frosting, of course!
8. For the matcha-obsessed, how about a Green Tea variant? We suppose it would go well with some tea. And maybe a plate of sushi. Ha!
9. We love how rainbow cakes look and taste so we think rainbow icing with the vanilla cookie would look super! Think of it as a repackaging of the birthday Oreo.
10. And for our last suggestion, what about cereal milk Oreos? Just think about it. Cereal milk-tasting cream in the middle of two chocolatey cookies? Lipsmacking fantastic!
Oh, if only these things actually existed. What about you? What flavors do you want your cookies to come in?
\\\\\\\\\\\\\\\\\\\\\\\\\\\\\\\\\\\\\\\\\\\\\\\\\\\\\\\\\\\\\\\\\\
Get the latest updates from candy!
subscribe to our newsletter!
////////////////////////////////////////////////////////////////
You know you'll regret it.
You don't even have to leave the house!
From digital art to photography to mixed media, Filipino artists show that creativity is never lost in our people.
Skip a makeup step with these beauty goodies!
Take pretty notes and study effectively with these tips!
Wait for a love like this. A love that is good to you, for you.
Are you up for this challenge?
Can't wait to see the actual gowns!