Guys
Your August Love Horoscopes Are Here!
Find out how to the relationship GVs roll in this new brand new month.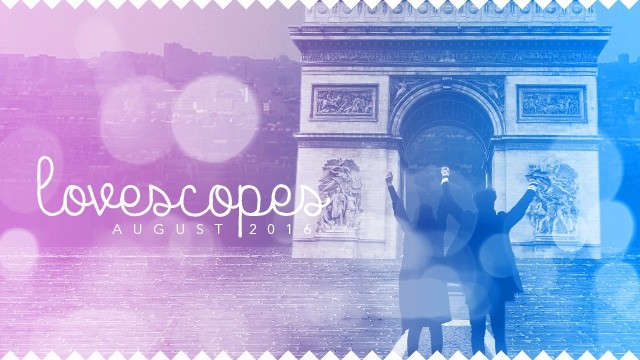 IMAGE Clare Magno
Aries
(March 21 to April 19)
You go, Glen Coco—that's this month's motto because really, as far as relationships go, you can make anything you want happen. And no, we don't mean working voodoo magic to make someone fall in love with you. You can make anything you want happen within your sphere. Manifesting the love you want isn't about switching someone's feelings for you but making a change in how you love yourself so that all the other magic just naturally follows.
Taurus
(April 20 to May 20)
You're usually really great about putting in the necessary work a relationship needs (i.e., watching that game with your guy even if you just don't get basketball)… so why is it such a struggle this time around? Maybe it's time to figure out if you're really as invested in this partnership as you were in the beginning. If your priorities have changed and little sacrifices are now becoming a huge pain, it's time to rethink your situation.
ADVERTISEMENT - CONTINUE READING BELOW
Gemini
(May 21 to June 20) 
Well hello there, lover—you seem to be just full of all the feelings this month. There hasn't been a better time to capture "my cup runneth over" than this August. This kind of luck doesn't come around too often, so live it up while you can. If you're positively bursting with feelings for someone and still haven't made it known, now's the best time to get a little vulnerable in the best way possible, and make your love known. 
CONTINUE READING BELOW
Recommended Videos
Cancer
(June 21 to July 22)
Let's be honest, the road to relationship happiness hasn't really been paved with the best intentions. You've been having a tough run and we get it. When you feel like your heart's been trampled on one too many times, it's completely understandable for you to want to get all the rage out. You're usually so forgiving when it comes to feelings, so forgive yourself for going on an all-out angerfest, even for just one day. Get it out 'til it's all gone and then move on.
ADVERTISEMENT - CONTINUE READING BELOW
Leo
(July 23 to August 22) 
For the most part, you're pretty sure you can weave your way into the best situation possible whenever it comes to love. Don't be too confident, Leo—not everything works out perfectly 100% of the time. Watch your step and be careful who you have to hit in order to get your ideal relationship going. Self-love is awesome but being too self-serving can make someone insensitive to other people. Someone might be suffering as you work your way to getting the love you want.
Virgo
(August 23 to September 22) 
Rest easy, because your upcoming birthday is the perfect time for romance. That's great if you're actually looking for a serious commitment—not so great if you're skirting around the idea of settling down with a boyfriend. If you've been avoiding getting into a relationship and would rather date whomever you please, try stepping back. Maybe it's time to give yourself the benefit of finding The One. (The One for now, at the very least).
ADVERTISEMENT - CONTINUE READING BELOW
Libra
(September 23 to October 22) 
Your most significant love relationship—whether it's unrequited love, a best friend turned boyfriend, or a serious commitment—may be coming towards a serious turn this month. And by serious, we mean really deep, sometimes painful stuff. Deep breaths, Libra, you can handle this for sure. It's not going to be easy and there may be tears, but positive change awaits you on the other side of the bridge. You just have to get through it.
Scorpio
(October 23 to November 21) 
So PDA can be a little offensive from time to time, and so your friends may be really sick of seeing you and your boyfriend's googly-eyed snaps. So what? You're in a positively great place when it comes to your relationship and sometimes you just want to flaunt it. Throw caution to the wind and stop being so self-conscious when it comes to whom you love and why you love him. Shout it from the rooftops while you're on a high!
ADVERTISEMENT - CONTINUE READING BELOW
Sagittarius
(November 22 to December 21) 
Vulnerability can come to an all-time high when you fall in love with someone. You're willing to bear your soul and leave it hanging. You seem to be in some kind of relationship limbo at the moment. You've said your peace and are now waiting to hear back from your significant other. It can seem uneasy when the ball is in someone else's court but you won't have to wait too long before this restlessness is over. Hang in there.
Capricorn
(December 22 to January 19)
You usually prefer to stay in the sidelines and not bring too much attention to yourself. But if you're going to get that guy to notice you, or if you're going to take your relationship to a place that works for you, you're going to have to step up to the plate and be your own boss. You've got way too much potential to lose it to shyness or timidity—you can totally have the love you want (perhaps you even have it already and just don'r realize it!). You just have to believe it.
ADVERTISEMENT - CONTINUE READING BELOW
Aquarius
(January 20 to February 18)
Sometimes, it just feels good to crawl into our own little holes and just be away from all the chaos that can come with relationship drama. Give yourself a chance to be on your own to catch your breath, Aquarius. If you dive in and get messy before you can gather your thoughts, you might get lost in all the madness. You can't be in an effective relationship if you don't know how to put yourself first. It's time for self-love.
Pisces
(February 19 to March 20)
Let's put a pause on all the seriousness this month, Pisces. Love doesn't always have to be so complicated, after all. It's time to feel the good, clean fun of first crushes, first dates, and first kisses. You've got the rest of your life to figure relationships out and you'll never be as free as you are right now. Put the brakes on getting overly serious and just learn to have fun. It'll be so worth it.
ADVERTISEMENT - CONTINUE READING BELOW
It isn't an easy feat even for the regular students like us.
In case you're curious about what kind of jobs are currently available in the market.
For when you're feeling adventurous.
You can spend Happy Hour watching the sunset!
He majored in Civil Engineering and wants to build a big home for his family.
As well as students of state colleges and vocational schools.
Maybe get one for yourself, too?
Looks like Anthony Bridgerton will be the focal point of the new season.
Need a bit more scandal and intrigue in your life?
The four universities have released a joint statement.
Yes, a mainstream romance about two Filipinas falling in love. And it's really good.
Find out what the universe has to say about you.
From The Candy Bulletin Community