Guys
You Know You Love Ed Westwick
Gossip Girl's Chuck Bass on his Manila experience, the Filipina appeal, and more!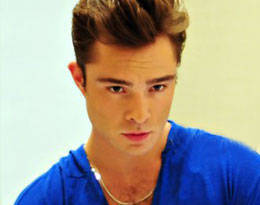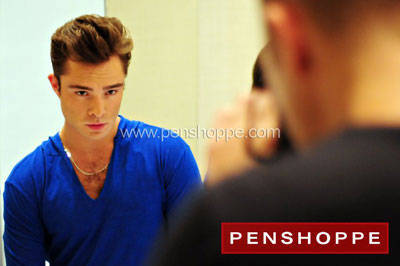 Yes, girls, Ed Westwick is as charming and chiseled in person as he is on Gossip Girl as Chuck Bass. After flying to Manila to shoot a Penshoppe campaign as its newest face, Ed met with the press last night at the Peninsula Manila's glitzy Salon de Ning.

He graciously fielded question after question and even gave in to requests for him to slip into his bad boy character. You wouldn't believe—or maybe you totally would—the squeals from the smitten crowd when he said in his Chuck Bass voice, "We don't need passports. I'm Chuck Bass." Dropping the accent, the British actor added, "That was fun! That was the easiest thing I had to do all day!"

Read on to see what Ed has to say about the Filipina appeal, returning to Manila, and what he has learned playing Chuck Bass.

On his experience in the Philippines. "It's been a very, very good trip. I went out on a boat around Manila Bay to take a look at the Manila skyline. You have a beautiful city here, a beautiful country and beautiful, fantastic people... Very rich and diverse place... I definitely have to make a trip back."

On Filipino women. "In general, everybody I've met has been fantastic, but the Filipino women seem to have quite an attractive look about them, I have to say. It's one of the reasons I'm coming back."

On his birthday plans (he turns 24 on June 27). "I've got friends coming in from London to New York. Really, I should fly back to Manila and throw a party here, right? Everyone's invited... But no, I don't really know. I might be shooting Gossip Girl so we'll see what happens."

On what he has learned playing Chuck Bass. "How not to mistreat women. He's pretty awful at times so I've learned a few things, what not to do."

On how he's like and different from Chuck Bass. "We're both male. We look alike, which is very strange, isn't it? But no, we're actually very different. He's such an amazing character to play, so much fun, and I have a great time working with all the people in the show, but I live quite a different life. I don't ride in limousines that often... But one thing he will never have on me is the English charm. He's got that American charm, but he doesn't have the English charm, you know."

On how he'll play Tybalt, another "bad boy," in the upcoming movie Romeo and Juliet. "I think each character has to be treated individually. We have a different set of restrictions in Romeo and Juliet because it is a period piece in Italy. It's going to be very different but there are common traits like the aggressive side... I'm still figuring that one out."

On why he said yes to Penshoppe. "I think Penshoppe's such a strong and ambitious brand... I think (the clothes I wore at the shoot) are a combination (of Chuck and Ed)... There weren't too many multi-colored bow ties or anything like that... Great range of stuff for the entire year."


ADVERTISEMENT - CONTINUE READING BELOW
CONTINUE READING BELOW
Recommended Videos
Yup, a million girls would really kill for this job.
They have unique beverages you won't see in most coffee shops.
These organizations strive to raise awareness and initiate change in their various advocacies.
We love the cartoony details!
Here's the story behind FASH.
Time to unwind with 1/2 of the Gaya sa Pelikula love team.
Everyone has gone digital.
She's playing the role of Star Vixen!
I didn't know I needed this until it came out...
They share tips and stories of their ups and downs to motivate you throughout the process.
From The Candy Bulletin Community