1 The feeling of being placed second to someone else.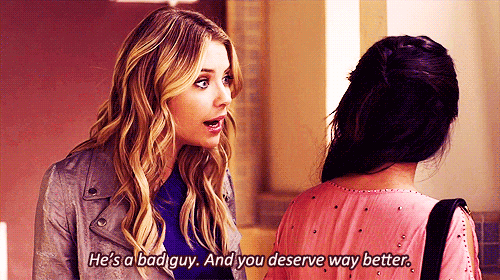 via danysalternate.tumblr.com
This is a feeling we probably know all too well. Don't tie your heart to someone who's strung out on someone else. On a page of Lena Dunham's Not That Kind of Girl reads, "When someone shows you how little you mean to them and you keep coming back for more, before you know it you start to mean less to yourself." Don't give yourself to someone who's clearly invested in someone else—remember that there is nothing worse than wasting your time.
2 The downfall of everything else in your life (grades, family, friends, etc).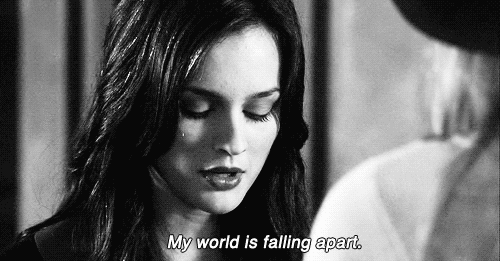 via iamskyrose.tumblr.com
ADVERTISEMENT - CONTINUE READING BELOW
I'm not saying that you should never put your relationship first but sometimes things are taken too far and before you know it, you alienate everyone else. You start losing touch with your friends, you no longer get to spend time with your family, or maybe your academic life is falling apart. Love is meant to lift you higher, not drag you down. You don't deserve to be with someone who doesn't constantly make you want to be the best possible version of yourself.
3 The burden of having to change yourself, little by little.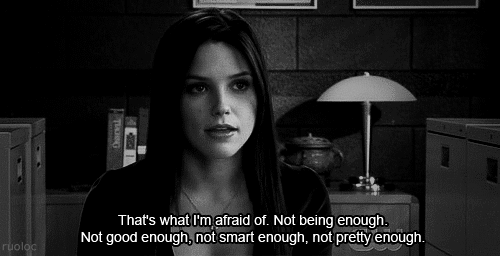 via iamnotperfectiamsorry.tumblr.com
For a relationship to work, you have to meet each other halfway. Once you're in a relationship, you have to take into account another person's feelings and sometimes put them before your own. However, there's a difference between making compromises and losing sight of who you are. You shouldn't have to give up the things that are important to you for someone else. You shouldn't have to change the way you laugh, the way you dress or the way you see the world. You deserve to be loved for all parts of you even if that means the bad, the ugly, and the undesirable. It's a difficult thing to look in the mirror and not recognize who's looking back. You don't deserve to be with someone who doesn't completely adore you, flaws and all.
4 Going through physical and emotional abuse.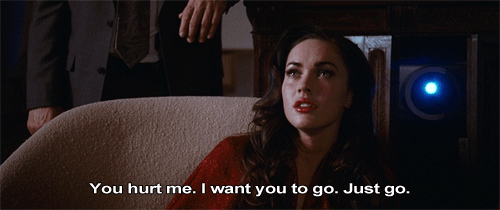 via flawless-meganfox.tumblr.com
No one deserves to go through any form of abuse—may it be through violence or through words. One thing to remember about physical abuse is that if he is capable of doing it once, he is capable of doing it again. Most girls don't recognize emotional abuse unless it hits them like a truck. Getting angry or having a bad day is not an excuse for him to treat you badly. Some words just get to you and some even stay with you for the rest of your life. Know when to ask for help because if there's one thing you don't deserve in a relationship, it's being a punching bag.

When you fall in love with someone, you tend to see him in such a way that is without fault, without error, and without flaw. Sometimes we don't realize that our idea of the person we care about doesn't exactly match up to who they really are. We tend to sugarcoat their blemishes and imperfections because we'd like to believe that love conquers all but truth is, it doesn't always. Love cannot get rid of that gut-wrenching feeling every single time he chooses to break your heart. It is possible to fall in love with someone who is not right for us. In fact, some might say it's the human thing to do—to fall for someone who takes us for granted because we tend to shrink ourselves into someone who doesn't deserve much. Remember that the people you choose to love should commit to you or get none of you.
ADVERTISEMENT - CONTINUE READING BELOW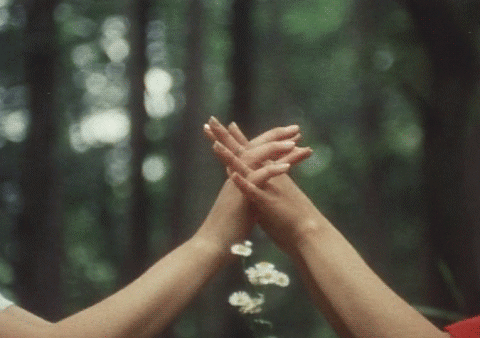 via xoxexoscenesxox.tumblr.com
Know when to walk away when it's no longer worth fighting for.
You deserve the kind of love you don't even have to think about.
You deserve the kind of love that you'll never have to second-guess.
You deserve the kind of lovethat gives you butterflies, time and time again.
Do you have boy troubles you want us to discuss? Send us a message in the comments or tweet us @candymagdotcom. We always love hearing from you. :)