Guys
Will You Be My Prom Date?
So what if he hasn't asked you to prom yet? We give you 10 ways to ask your guy to prom so work up that confidence, Candy Girl! Disclaimer: Not 100% foolproof.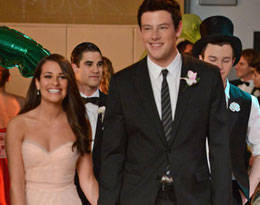 photo courtesy of FOX Broadcasting Co. (Glee)
'Tis the season of glam gowns, frilly frocks, sky-high stilettos, and warm fuzzies. Prom is probably the most memorable night of your high school life and a girl has got to have her perfect prom—starting with her dream date. We know you already have someone in mind. Problem is, he hasn't asked you to prom yet! Fear not, for it is not the end of your dream night! This may sound like a crazy idea but have you considered asking him instead? Just give it shot! There's 85.7% chance (not a statistical fact, just a guess) of him saying yes and if he says no, then just who does he think he is?!
Most valuable proposal. If you want to ask a jock to prom, think of ways to relate his sport to your proposal. If you're eyeing the basketball team's MVP, you can ask him during halftime. You can also have the cheerleaders ask him in a cheer (which may not work 'cause obviously, they're also into him).
Chemical reaction. If you plan to ask your lab partner to prom, it's best to pop the question with a bang! In a beaker, prepare a mixture of arsenic sulfide, copper acetoarsenite, and copper oxychoride. Voila! You just formulated pyrotechnics that say, "PROM?" P.S. Totally kidding.
X marks the spot. Ah, we know how you've always wanted a guy to ask you to prom by preparing a little scavenger hunt for you. Pull off this Hollywood cliché and plan a game for your boyfriend á la The Amazing Race.
As seen in the movies. Speaking of Hollywood clichés, go on a movie marathon and get tons of ideas from chick flicks. Rom-coms never run out of crazy prom proposals.
Prom King. Asking Mr. Popular to prom can be really challenging because you'll be up against every single girl on campus. Act quick and snag him before someone else does. Be sure to stand out so come up with an outrageous proposal. Do some cartwheels, scale a building, serenade him in the auditorium—do whatever it takes.
Emo kid. Carving "Prom with me?" into your chest with a knife would be a perfect gesture (not to mention freaky and fatal) but you don't have to shed blood to get that sweet yes. Just burn him a CD, make a heartfelt letter and you're all set!
Post it. Put together sticky notes that spell P-R-O-M and place them on the windshield of his car or his locker. Make sure to help him clean the mess afterwards.
A scrumptious proposal. If you totally lack originality, then you might want to consider this suggestion. Insert your little prom invitation in a fortune cookie or a wicked Oreo and hang out with him during recess. The way to man's heart is through his stomach, so your baking skills will sure come in handy.
WANTED: PROM DATE. Still don't know who to go with? Problem solved! Just put up wanted posters in the boys locker room (or in all the corridors if you're desperate like that). You may require them to submit their resume to make sure you get the most qualified prom date.
Just ask. "We are not maarte like you girls so we don't really need a big mushy thing," says Justin, 19. "If we like you enough, we'll just say yes."
Good luck and let us know how it goes. ;)
The 19-year-old dancer also appeared in the music video and on Jimmy Fallon's show along with her dance crew The Lab!
This is straight out of a teleserye!
It'll be available in five cute colors!
Sometimes, it only takes a few simple additions to brighten up your area and inspire you to stay productive.
Aside from IU, heavyweight groups like BTS, BLACKPINK, TWICE, and BIGBANG are also on the list!
Both the shop and its drinks are too pink and pretty!
There are also useful tips for showering your cat and cutting their nails. #NEED
Who else is excited for an all new season of "Kingdom"?
It's honestly a pretty decent amount for extra income!
Here's a little guide to get you ready for post-college life.
More Hyun Bin content coming our way!