We don't know what it is with guys and responding to messages, but most of them just don't know how to reply as soon as they can—whether it's texting or Facebook chatting. So why do they take minutes and even hours (!) to reply?
He could be doing his homework. We could almost see you rolling eyes right there, ladies. This is what we want to believe, though. Maybe he's just trying to finish all his school stuff first, so he can talk to you without distractions later.

He's playing video games. Again. Don't even try and compete for his attention against that blasted PSP. There is a 60% chance you are going to lose the fight.

He doesn't find the conversation interesting. Want to keep the conversation going? Try asking open-ended questions next time.

He's just plain lazy to text or chat with you. Ugh.

He's just not interested. Let's face it. This can happen. At this point, just forget it okay. It's not you.
And while you're still hanging on the hope that he'll respond to your question over text and chat, you can do these things—instead of, you know, staring at your phone or on that screen until your eyes start to hurt and pop out.
1. Paint your nails. If he responds while your fingernails are still wet, let him wait. That's his prize for having you wait for half an hour over his reply. Besides, we have lots of lovely nail tutorials for you.
via je-suis-parfaite-ou-presque.tumblr.com
ADVERTISEMENT - CONTINUE READING BELOW
2. Finish your homework. Books before boys. Priorities, ladies.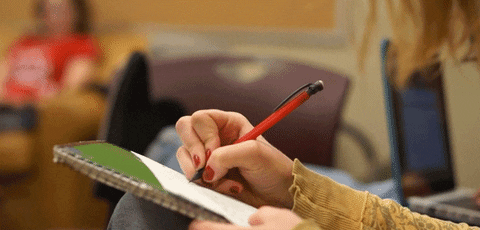 via Giphy.com
3. Think of the next question you're going to ask him, just in case he gives you another one-sentence reply.
via iamserver.tumblr.com
Guy problems keeping you awake at night. Maybe we can help. Tell us about them in the comments or tweet us @candymagdotcom. We'd love to hear from you. :)