Guys
When You Say "I Love You"
Words aren't always what they seem. What did it really mean when Noah told Allie that he loved her?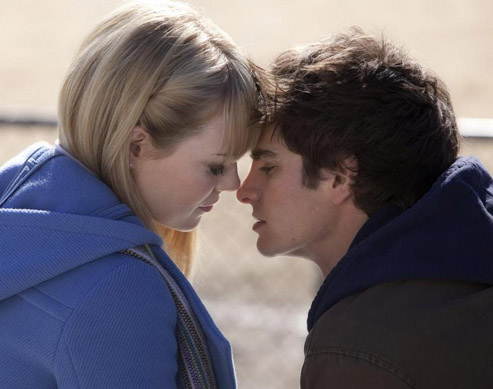 PHOTO Marvel Entertainment
The words "I love you" were not made to solve the ugly 3AM fights. They were not meant to be used as a Band-Aid for the damage done by the mistakes you wish you could take back or the things you didn't mean to say. You said those three little words in a desperate attempt to fix things and to make everything seemingly bad go away—every tear, every scar, and every painful pit in my stomach. You naively believed that when things would go wrong, those words were all that you needed to make things right again.
When you say "I love you," I want you to mean it. I don't want to just hear it when you think I'm PMS-ing, or when you just think I need to hear it. I want you to say it even in moments where it doesn't seem to matter—in the instances where you catch me spacing out or when you think I'm dozing off on your chest when I'm actually just listening to the clicks and whooshes of your heart and wondering if it's beating for me.
ADVERTISEMENT - CONTINUE READING BELOW
When you say "I love you," you're not waiting for something better to come, or wanting to see what else is out there. I don't want the words "for now" take space at the back of your head when you say it. It means that the way you feel isn't just for the time being.
CONTINUE READING BELOW
Recommended Videos
When you say "I love you," it means you're not going to change your mind. Those words mean you've outgrown the typical above-the-surface meaning of it, and that you see through it just like how you see through me. It means that you see me for me, flaws and all, and still choosing to be with me over anything seemingly perfect.
For the longest time, we have grown used to knowing those three words as what would keep two people together, but sometimes, they are also what would keep people apart. When you say "I love you," sometimes it means "I'm letting you go." The universe is not always in our favor and the stars don't always align for us. Truth be told, we are not always what's best for the people we love. We drag them down, what we both want out of life is too different, or simply because they do not love us quite in the way we need them to. Love is a two-way street and for the lucky ones among us, that is the case, but there are also the people who aren't as lucky.
ADVERTISEMENT - CONTINUE READING BELOW
READ: #MusicMonday: 10 Love Songs For Your Long Distance Relationship
When you say "I love you," it means you want that person to be happy, even if it means that they have to be without you. When we truly and genuinely love someone, we don't look for anything in return because this mystical and magical force we've come to know as love doesn't permit us to do so. You look out for their best interest and you want them to have the best things in life. You're happy when they're happy and you're sad when they're sad.
Love means having to hurt every once in a while. Be it so that the love may be reciprocated or not, love means being disappointed every now and then. That's the price we unfortunately pay when we say those three little words. But when you hear the words "I love you," all of a sudden, it makes up for every single bit of it—the highs and the lows, the good and the bad, the butterflies and the tears.
ADVERTISEMENT - CONTINUE READING BELOW
READ: From Our Readers: A Letter to My Love, Now My Guardian Angel
Got a story to share? E-mail them to us at candymagazine @gmail.com and you just might see your work published here. :)
This is PE in the new normal.
In an interview with Candy, STI College Dasmarinas' Deputy Administrator spoke about the struggles they've encountered amid the pandemic.
The closures are caused by the coronavirus pandemic.
She's also a producer for the film.
The sacks were bought from bakeries in Palawan.
Watch them while you can!
But you still need a travel pass if you're coming from Metro Manila.
And she's now one of the local artists featured in PARADISE RISING's debut mixtape.
The vlogger shared how he had been doing after undergoing three chemotherapy sessions.
From ice cream to cake to all sorts of spinoff drinks!
It's not easy, but it's worth it.
From The Candy Bulletin Community