Guys
When You Miss Someone and You Can't Do Anything About It
It gets hard when I just want to reach for my phone, dial your number, and tell you how much I miss you.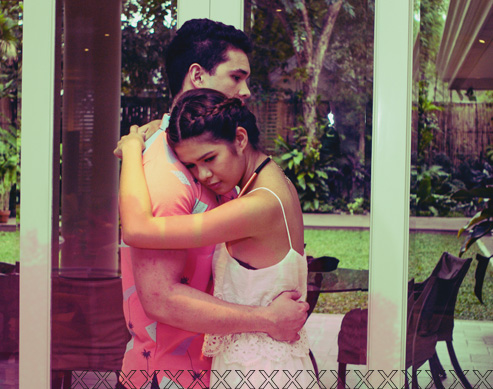 PHOTO Mark Jesalva
You don't miss him at 11PM when you're lying in bed alone, waiting for sleep to come and bring you some place else. You miss him at 11AM when you're surrounded by a bunch of people in school and are supposed to be doing something else.
At 11PM, you're alone and you really can't stop yourself from thinking about other things, other people. Does he miss you as much as you miss him? Do you ever cross his mind as often as he does yours? Does he ever think about those times when you were still together?
At 11AM, you are in the middle of a busy crowd or are in the middle of a class discussion. You know your attention should be in that moment, in that lecture, yet your thoughts travel elsewhere. What is he doing at the exact moment he crosses your mind?
READ: An Open Letter to the Girl Who Fell in Love with Her Friend
But if you think about it, missing someone is half the story. What makes it harder or easier is whether you can do something about it or not. And when you realize you can't, that's what makes things a little more difficult. It's so much easier if you get to see him after classes, during the weekends, or sometime within the week or even the month. It's easy when you get to look forward to a time when you get to meet or talk to each other again. At least you have something to look forward to. But what happens when you don't? What happens when you're just stuck with that longing feeling? What are you supposed to do?
ADVERTISEMENT - CONTINUE READING BELOW
Most of the time, you do hang on to that feeling and continue thinking about him. You do spend your days doing what you're supposed to do, meeting deadlines in school, and being the responsible student that you're supposed to be. You divert your attention and surround yourself with the people who make you laugh and make you forget a little. You try to care about anything, except him and the thought of missing him. You push the thought of him aside, hide it somewhere deep within you, in the furthest corner of your heart.
When it gets hard, you try to stop yourself from paying too much attention on the thought of him, of his new girl, or his new life—a life that clearly doesn't and won't ever include you. You remind yourself that somehow, maybe you living separate lives is for the best. You just think about how everything's going to be better in the future and how one day, things will go according to your plans.
ADVERTISEMENT - CONTINUE READING BELOW
You just pretend, period. You pretend that staying away from him is best for the two of you; pretend that all things will work together; pretend that in the end, things will work out for you too; and pretend that you're not missing him or thinking about him. You live each day pretending.
Until one day, you actually forget that you are. The pretend life you've made for yourself becomes your truth. And you find yourself in the middle of finishing your school requirements, in the middle of talking about something with a friend being suddenly remind of his smile, his eyes, the way he laughs at your jokes, and suddenly you feel fine. It doesn't hurt that much anymore, and you actually feel a whole lot better.
You continue pretending that you're not missing him, until you forget that you are. Until you forget that it does hurt a little and realize that things aren't really as heartbreaking as they seem to be.
ADVERTISEMENT - CONTINUE READING BELOW
Then one day, someday you'll forget. You're perfectly fine again and you'll be busy living your life. Then you'll accidentally bump into him in the coffee shop you both used to frequent and you just smile, say hi, walk away, and realize that you're alright, and that after a long time, finally he is just a distant memory that will cross your mind once in a while. And you're okay with that.
Got a story to share? Send them to us at candymagazine @gmail.com and you just might see your work published here. :)
Debby Ryan believes that Patty and Bob are soulmates!
Borrow your brother's or boyfriend's polo, or shop at the men's section for yourself, and try these looks for your next 'fit.
The Twitterverse-and beyond-was shookt.
It's okay to love your lonesomeness and still be interested in the idea of being in a relationship.
Yes, it's as fabulous as you think.
It wouldn't hurt to check ourselves for toxic behavior through the occasional introspection.
College is when we really should be making mistakes, because it is also the best place for us to learn from them.
As a culture-oriented org, it celebrates the Chinese heritage in the Philippines, but not without people having misconceptions about it. Read on to find out the myths about Englicom and what it's really all about.
How to be good to your skin AND your beauty routine!
Flawless face at an affordable price!
Oh, we've all been there!