What's sweeter than pancakes for breakfast? A grad ball-posal (kind of like a promposal but for a grad ball) involving pancakes and syrup for breakfast! 
We were having brunch at Pancake House when we saw a waiter hand Martina Ordonez, 17, from St. Paul Pasig, a board with something written on it. "Saying 'yes' will make today a 'good morning' and 'good night' on April 1.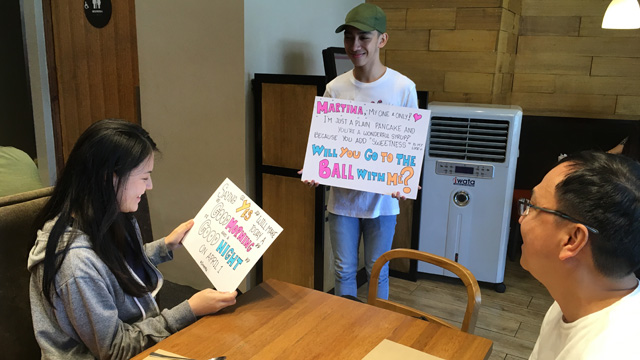 When Martina looked up, her boyfriend Jhorell Geronimo, 17 from Lourdes School in Mandaluyong was holding another board that read,
"Martina, my one & only! *heart* I'm just a plain pancake and you're a wonderful syrup! Because you add 'sweetness' to my life, will you go to the ball with me?"
And while all of this was happening, Martina's dad, who was also sitting with them, took a photo of them and even high-fived Jhorell at some point. What a cool dad!
Of course, Martina said yes and they proceeded to eat their brunch. But the snoops in us couldn't resist the temptation so we approached them and asked if we could interview them for the site.
ADVERTISEMENT - CONTINUE READING BELOW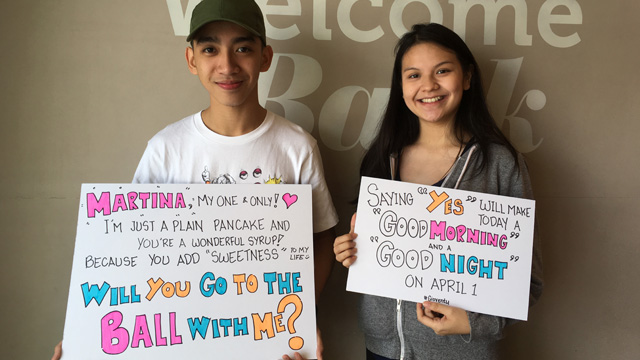 Here's what we found out:
The ball is happening tomorrow! But Martina already has a dress.
"Since we're in a relationship, it's understood that we're going together. I just did the ball-posal to make it more special," Jhorell says.
Martina was clueless the whole time.
"Hindi siya usually nangyayari, so nung ginising ako ng dad ko, parang kakain daw sa Pancake House tapos [nagtaka ako kasi] parang wala namang special occasion or something, pero sumama nalang ako," shares Martina.
Martina's dad was in communication with Jhorell the night before!
"Last night, he texted me na kung pwede ayain ko si Martina sa breakfast. Sabi ko sige saan tayo? Eh sakto since wala naman akong work ngayong umaga, mamaya pang hapon, sabi ko sige samahan ko na. Dumaan din kasi ako sa ganyan kaya supportive ako," says the coolest dad ever aka Martina's dad.
Aww, we're sure you'll have a ballin' time tomorrow! Enjoy, you guys!