From Paris With Love
It has always been my dream to visit Paris. I've tried to ask my parents if we can go to Paris during summer but they've already booked tickets for Hong Kong. On Valentine's Day, though we never give gifts to each other, my boyfriend surprised me with a small box during lunch. When I opened the box, there was a silver heart locket and a note that said "Maybe next time it'll be for real." When I opened the locket, I couldn't help but laugh at the Photoshopped photo of us together by the Eiffel Tower! —Katie, 18
Belle of the Ball
Our senior prom was scheduled on a Valentine's Day. Having no boyfriend as a default date to prom, I went with my best friend instead. As prom tradition, in the middle of the night, the hosts went to the stage and started announcing the prom royalties of our batch. As I stared in awe at the prettiest girls of our batch in their gorgeous dresses who went up on stage with their dates to receive their crown, my best friend leaned in and whispered to me "you are my prom queen." In that brief moment, I felt more royal than the girls onstage. —Mia, 17
ADVERTISEMENT - CONTINUE READING BELOW
Heartbreak Holiday
My boyfriend has never been the sweet mushy type of guy. So I was surprised when he asked if I was busy on Saturday night, which was Valentine's Day. When the night came, I dressed to the nines and made sure I look extra good. When we met up, he looked quite serious and uncomfortable. He started talking on how he's going to attend college in a different country and that he just wasn't feeling a long distance relationship and thinks that it's better if we break up. I know that he's not the hearts-and-flowers type of guy but breaking up with someone on Valentine's Day has cruel written all over. —Ricca, 19
Sweet Surprise
Last Valentine's Day, I attended a school retreat with my class. Exhausted from the activities and ready to go to sleep, I got a text from my best bud asking me to meet him at the back of the retreat house. Reluctant to go at first, I finally gave in. As I walked towards the back of the house, I was surprised to see the whole garden filled with bright lanterns. He walked up to me with a tiara in hand and said "Will you be my princess this Valentine's Day?" Turns out he has been planning the whole thing for a number of months and even got help from our classmates and homeroom adviser! With such a sweet gesture, how could a girl say no? —Maiko, 17
ADVERTISEMENT - CONTINUE READING BELOW
Bloody Mary
When my longtime crush asked me to go out with him on Valentine's Day, I was beyond ecstatic! I made sure to have the perfect outfit, don the perfect hair, and master the perfect makeup. My period was not supposed to arrive till later that week, but I put on a pad just to be sure. I was having a blast during our date and I was pretty sure that he was having an amazing time too, then suddenly, he looked uneasy, awkward even. When I asked him what was wrong, he turned red and said "I think you'd better go to the restroom" and pointed at my skirt. Apparently, my period decided to visit early and my pad wasn't able to keep it off my white skirt. –Peachy, 18
Our V-day Dream Date Staple
THE RIGHT PAD WITH THE RIGHT FIT. Don't let nature's monthly gift destroy your Valentine's Day dream date! Make it the first of the many Valentine's Day dates with your dream guy with Whisper Cottony Clean.
ADVERTISEMENT - CONTINUE READING BELOW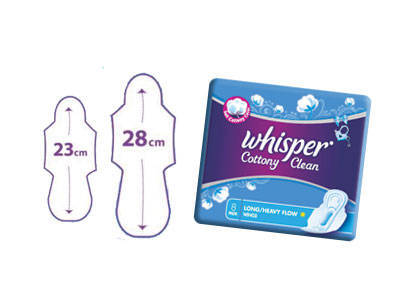 PAD FIT 101: LONGER LENGTHS FOR A MORE CONFIDENT YOU! Get better stain protection during your V-day dream date with Whisper's best ever cottony protection with its new All-Day Confident pad:
longer and has a wide backguard vs. the regular pad
better fit to protect you from stain emergencies all night
has a soft cottony cover that keeps you comfy
So even if you get your period on your dream date with your Valentine, don't stress about it! Because with Whisper, you're unstoppable!
ADVERTISEMENT - CONTINUE READING BELOW