Guys
To The Person I Met At the Wrong Time
You were just not the right person, I figured.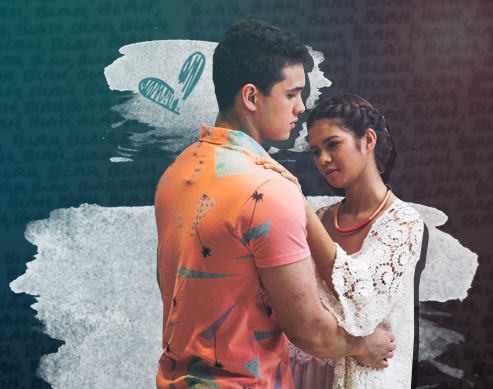 COVER ART Trixie Ison, PHOTO Mark Jesalva, MAKEUP Angie Cruz, Shu Uemura
HAIR Eddiemar Cabiltes, MODELS Niko Rodriguez, Arianna Cowper
How did I know it was the wrong time?
Maybe I got a hint when our folks told us we were so young, and my dad told me clearly that I'm not allowed to have a boyfriend yet. That I should focus on my studies right now, and on passing my requirements and trying to figure out what course I should take in college.
Maybe I figured it was the wrong time when I knew I should pay more attention to completing and finishing my college applications. That I'm supposed to take a field trip with my friends to different universities and figure out how we're all going to survive college—whether we're all together in one school or not—instead of choosing a school that'll be convenient for both of us.
Maybe it was the wrong time when one or both of us were in a relationship. That it would be unfair to take two loves just so you can have an option. No person deserves to be an option, or a substitution even.
ADVERTISEMENT - CONTINUE READING BELOW
Maybe I knew it was the wrong time because I had my doubts and fears, about you and about us. That distance was too much to bear and that I know I won't want to spend the next months and years of my life missing someone.
CONTINUE READING BELOW
Recommended Videos
READ MORE:
To The Guy Who Broke My Heart
To the Guy I Secretly Loved All Throughout High School
To the Guy Who Left Me Hanging
And maybe, maybe I knew it was just the wrong time when I woke up one morning and I got hit by the sudden realization that time is constant and that the right and wrong time don't exist. Because if you were the right person, this timing wouldn't even matter.
The right person doesn't have expiration dates. You can't be with someone in a few months and want out the next morning because you've grown so much that you've become strangers to one another. The right person won't find excuses and tell you that he's busy and that you should just come back later when he's alright and he's already ironed out his plans for himself.
ADVERTISEMENT - CONTINUE READING BELOW
The right person will be the right person regardless of the circumstances. He won't wait until you've got your life figured out because he'd love to learn and grow with you. The right person will be the right person because he knows you only get one chance in life, and you better not screw things up because not all people get lucky to find a second one waiting for them.
I know it was the wrong time just because you were the wrong person... and I was the wrong person for you. Maybe at this point in time. Or maybe for the rest of our lives. Because if we were right for each other, we would never be afraid to take the leap and risk everything yesterday or today or tomorrow or in the next few days, weeks, months, and years.
Got a story to share? E-mail them to us at candymagazine @gmail.com and you just might see them published on this space.
ADVERTISEMENT - CONTINUE READING BELOW
Remember Tiffany Grace Uy?
You can still donate to the cause.
He was a topnotcher, not once, but twice.
This means a grade of "4" or "5" shall not be given, according to the UP Office of the Student Regent.
Warning: Major spoiler alert for "The Princess Switch: Switched Again."
Learn about the process of anime creation on a more extensive level.
There are other courses that can help you prepare for its rigorous curriculum.
You have to be prepared at ALL times.
Think of the classic doughnuts, gone fudgy!
There's so much to love about this girl!
The beauty queen flaunted Filipino fashion when she was invited to judge the Colombian pageant.
From The Candy Bulletin Community