Guys
To The Girl Who Can't Get Over Her Heartbreak
No matter what happens and no matter how hard it feels, don't give up.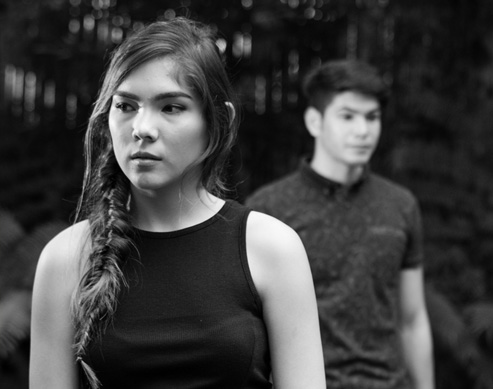 PHOTO Mark Jesalva, MAKEUP Angie Cruz, Shu Uemura
HAIR Eddiemar Cabiltes, MODELS Maureen Schrijvers, Mathew Custodio
This is for the girl who's able to get up every morning after spending the entire night crying and asking herself what was wrong or if she made the right decision. It wasn't an easy one to make and never easier that you're the one who has to make it, but you did anyway because you know it's not going anywhere anymore.
This is for the girl who gets ready for whatever the day brings even if she's a little cautious and scared that she'll get hurt again so she has to keep her walls up and question every single thing she's known before.
This is for the girl who has spent weeks, months, and years healing and waiting for the broken pieces of her heart to glue themselves together again. You managed to stay sane and calm and whole, and even though you get ugly relapses every now and then, you stay true to yourself and continue marching on.
ADVERTISEMENT - CONTINUE READING BELOW
This is for all the girls who've had their hearts broken and find it hard to get back to regular programming, for all the girls who've loved and lost, and can't even see the point of losing something just to learn a few lessons about life. Know that things are going to be fine. Things are going to be okay. We know you've heard those lines so many times already and each time, you doubted if these were actually true. But they are, believe in your heart that they are.
CONTINUE READING BELOW
Recommended Videos
READ MORE:
To That Person I Am Hopelessly In Love With
An Open Letter To The Guy Whose Heart I Broke
A Letter to the Girl Who's Afraid of Falling in Love Again
This is not a promise or an assurance that things will get easier or that you won't ever find yourself bouncing back to that dark place again. This is us giving you the truth about life. That things are bound to work out and come together in the end. That even if things are difficult and painful today, tomorrow is a different day. And that no matter what happens, how you've been hurt, and how you've ever felt, you always have a choice of whether that heartbreaking part makes or breaks you. And we hope you allow it to make you—make you a better person, a stronger woman, and someone who's ready to embrace the world and love again as if she's never gotten her heart broken before.
ADVERTISEMENT - CONTINUE READING BELOW
This is a challenge and an encouragement for you to let go—no matter how fast or slow it may be, no matter how long or short the time it takes for you to do so may be—this is your wakeup call, the tight embrace you need, the other hand you need to hold to know that whatever life may bring, you always, always know that things are going to get better. So hold on, strong heart, and brace yourself. Don't give up on life, more so on love, because at the end of the road, things will fall to their proper places and you'll know just why this heartbreak is one of your life's turning points. Hold on and continue holding on.
Got a story to share? Send them to us at candymagazine @gmail.com and you just might see your piece published in this space. :)
The closures are caused by the coronavirus pandemic.
She's also a producer for the film.
The sacks were bought from bakeries in Palawan.
Watch them while you can!
But you still need a travel pass if you're coming from Metro Manila.
And she's now one of the local artists featured in PARADISE RISING's debut mixtape.
The vlogger shared how he had been doing after undergoing three chemotherapy sessions.
From ice cream to cake to all sorts of spinoff drinks!
It's not easy, but it's worth it.
This hardworking actress seems to have mastered the art of staying grounded through family.
Thinking of taking up a course that isn't related to your SHS strand?
Yup, you wouldn't believe her net worth.
From The Candy Bulletin Community