Valentine's Day or this whole love month can feel a little lonely for single girls out there. It's sometimes a little heartbreaking to be with no one (which is not really true because you have family and friends who love you so much!) while most people are with their partners, planning where to eat and what to do this month. So when we saw the hashtag #TipsParaSaSingle trending this morning, we were quite happy to get a little help from the Twitterverse thinking about fun things you can do or what this February. Hope this list helps. Happy February, Candy Girls!
1 The best cycle. Ever.
#TipsParaSaSingle kain, tulog, vice versa lang tayo.

— Nikkicism♔✌ (@nikspikotchu) February 6, 2015
And if we may add, binge-watching movies and TV shows with those two. Just perfect.
2 Food understands. Food makes everything better.
#TipsParaSaSingle kumain lang madame.

— KIM ANN BO (@kimannbo08) February 6, 2015
There's nothing good food cannot fix, believe us.
3 See what we mean?
#TipsParaSaSingle Date a Pizza XD

— Fae Torreliza ♚♬ 넧기 (@doniitsss) February 6, 2015
Even Jennifer Lawrence thinks so.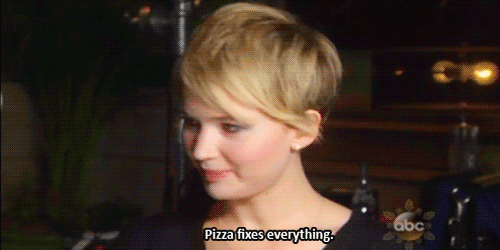 via princesslily.tumblr.com
4 It's all about perspective, girl.
ADVERTISEMENT - CONTINUE READING BELOW
Im not single. Im in relationship because my boyfriend lives in the future. #TipsParaSaSingle

— Cyrel Lee Densing (@CyrelLeeDensing) February 6, 2015
Just enjoy all the time you have and do something that makes you super happy.
5 Do something productive.
magpayaman ka nalang #TipsparaSaSingle

— Abigail Abrera (@sayAbiee) February 6, 2015
Save up this year and then #treatyoself by the end of the year.
6 Or focus on yourself first.
#TipsParaSaSingle be fit and sexy

— ArC (@sehuntine09) February 6, 2015
Don't forget to keep your body healthy. Aside from looking good, you also have to feel good. Feeling good starts with keeping yourself fit and healthy.
7 If you have bad thoughts, they'll show.
#TipsParaSaSingle wag kang bitter!

— Jessa Mae Arong Besa (@Samie2108) February 6, 2015
So start thinking happy thoughts and focus on the good things in life instead.
8 WORD!
#TipsParaSaSingle I-Date mo na lang family and friends mo..atleast sila di ka nila iiwan! :)

— Leslie Delos Santos (@heroine_ladykia) February 6, 2015
Have you ever told your family and friends that you're grateful to have them in your life through thick and thin?
9 Seriously, stop it. You'll only feel bad in the end.
Stop stalking your ex online, stop trying to revive a dead relationship. It's over. It's time to move on. #TipsParaSaSingle

— Chrisia Marie Sanqui (@chrisiamarie) February 6, 2015
Go and stalk your ex on social media if you want to wreck yourself. But who wants to feel that way, right? So read and do something else instead.
10 But before anything else, do your homework first.
#TipsParaSaSingle For students: THINK OF GRADUATING FIRST. For the rest of the species in this planet: CHILL. GOD'S TIMING WILL WORK.

— BERGE™ (@yhamberger) February 5, 2015
Before you go on full YOLO mode, remember to finish those school projects first!
READ MORE:
#SaHighSchool: 10 Things Every High School Teen Can Totally Get
This Twitter Account Has Got Us All Figured Out
This Instagram Account Shows You the Text Messages of Couples Who are Bound to Call It Quits
Know more fun activities we can all do this month? Let us know in the comments or tweet us @candymagdotcom to join the conversation. :)