Guys
There's No Perfect Guy and That's Okay
And there's no perfect love. That's okay.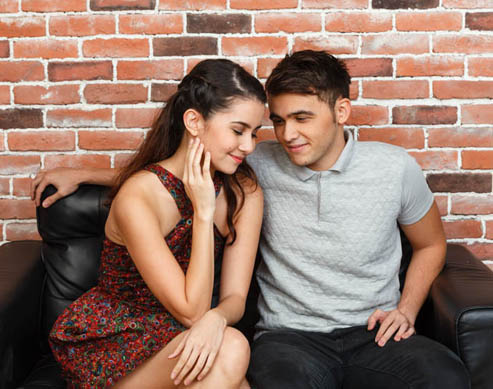 PHOTO Patrick Martires, MODELS Maan Marquez and Andrew Sean Baldwin
More often than not, we think the only way to find true love is to find it in the form of a 6-foot-tall soccer-playing stud who is completely in touch with his emotions. Let me spare you the years of ugly crying over Nicholas Sparks movies and tubs of ice cream by saying what no hopeless romantic will ever dare say: The perfect guy? Yeah, he doesn't exist.
All of us girls generally grow up surrounded by Disney stories and fairy tales which lead us to believe that the pinnacle of our lives is when we will leave a glass slipper behind, or when we will get swept off our feet by some guy on a flying carpet. And for our gal-pals Cinderella and Jasmine, it surprisingly worked out. But for the rest of us, there aren't always genies and fairy godmothers to push us in the right direction of true love.
ADVERTISEMENT - CONTINUE READING BELOW
And when we're not too busy trying to watch Katherine Heigl and Julia Roberts movies, we turn to young adult books. And eventually, we end up with this fabricated idea of what the perfect guy is supposed to look like. The perfect guy is the one you see at a bookstore glancing through the pages of your favorite Shakespeare novel. The perfect guy is the one you come across in a coffee shop corner in a leather jacket, playing a guitar with the voice of James Blunt. The perfect guy is the one you bump into in a sea of people and all your books fall down and whose gaze you romantically meet when you both try to pick them up.
CONTINUE READING BELOW
Recommended Videos
I've come to learn that the guy you're meant to be with doesn't always come in the way you expect him to or sometimes, he may not even come at all.
ADVERTISEMENT - CONTINUE READING BELOW
Soon enough, you learn that there are about a million more things to life than just finding the perfect guy. For the longest time, we have been associating the word "love" with the male population. And I'm not saying that's a problem---finding the love of your life is great and once you have them in your life, it's really one-of-a-kind. However, we must know that it's okay to find it elsewhere. Love may come in the form of your tight-knit group of blossoming friendships. Love may come in the form of doing what you makes you enjoy the most like taking portraits of people, exploring the world, or even something as simple as drinking coffee. Love is about respecting yourself enough to surround yourself with the people and the things that make you happy.
Love doesn't always have to come in the form of 6-foot-tall make-believe guy.
Sometimes, love is a split-second of just doing what you love.
ADVERTISEMENT - CONTINUE READING BELOW
Sometimes, love is a tub of ice cream.
Sometimes, love is a fleeting moment with the people you care about the most.
Sometimes, love comes in the most inconvenient time possible.
And that's okay.
Love was never meant to feel perfect.
It was meant to feel real.
March isn't off to a great start for K-pop fans.
This meaningful and now-viral song has quite the story!
Here's how you can apply.
Yup, a million girls would really kill for this job.
They have unique beverages you won't see in most coffee shops.
These organizations strive to raise awareness and initiate change in their various advocacies.
We love the cartoony details!
Here's the story behind FASH.
Time to unwind with 1/2 of the Gaya sa Pelikula love team.
Everyone has gone digital.
From The Candy Bulletin Community