Guys
The Things Only Girls Who are Dating a Sensitive Guy Will Understand
They make great friends and even better boyfriends.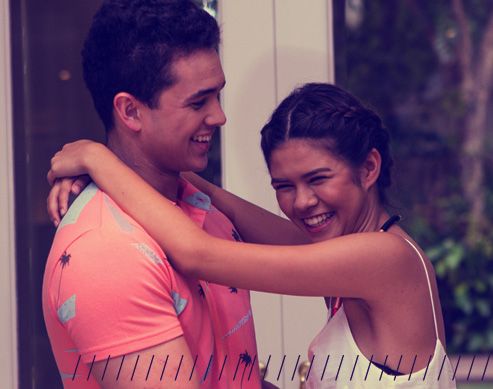 PHOTO Mark Jesalva MAKEUP Angie Cruz, Shu Uemura
HAIR Eddiemar Cabiltes MODELS Niko Rodriguez, Arianna Cowper
Sensitive guys are the best: their self-awareness is on-point, which means they're super in tune with your feelings, too. They make great friends and even better boyfriends because you won't have to spell out every little thing for them, and they'll never make you feel like your emotions are petty or insignificant. They listen, they care, and they know how to read between the lines. There are a ton of perks that come with dating a sensitive guy, and this list celebrates the good, the funny, and everything in between. (Plus, an important reminder!)
1 He has a special way with words.

Romantic, carefully crafted declarations of love every day? Yes, please!
2 He knows how to handle your moods.
"I got this."
3 He doesn't panic when you cry.

…even when it's because of a bad haircut or a celebrity breakup.
READ: 7 Problems Only Girls in a Long Distance Relationship Will Understand
4 And he's not afraid to cry in front of you (or with you).
ADVERTISEMENT - CONTINUE READING BELOW
5 Which means he'll cry over YouTube videos…
"That puppy is best friends with a kitten! IT'S SO BEAUTIFUL."
6 Or even particularly well-made commercials.
"I know they're just trying to sell me stuff, but HUHUHU!"
7 With him, you can never pretend that nothing's wrong.
Uh-huh, honey, he knows what's up.
READ: 5 Struggles Only Girls Who Got Blocked By Their Exes on Social Media Will Understand
8 But on a more serious note, you'll never ever hear him say the infuriating phrase, "Stop acting like a girl."
9 And when one of his guy friends opens up to him about anything remotely emotional, he'll never respond with, "Dude, that's so gay."
Hey, bros need to let it out, too.
10 Because ultimately, he understands that it doesn't matter if you're a guy or a girl—our feelings make us human, and we owe it to ourselves to stay in touch with them and give them the attention they deserve, regardless of gender.
ADVERTISEMENT - CONTINUE READING BELOW
Good talk? Good talk.
READ: 7 Dating Problems Only Girls Surrounded By Brothers Will Understand
Got guy problems you want us to help you with? Let's talk in the comments or via Twitter @candymagdotcom. We always love hearing from you. :)
If you haven't already picked up on that.
It'll be just like the good, old days-except now, you can watch it any time, anywhere.
Molo has since posted his public apology online via Instagram stories.
Finally, something to look forward to.
This is just heartbreaking.
For "a different kind of positive," as designer Ram Silva puts it.
All you need is coffee, hot water, and milk sugar is optional!
What's your best and worst trait as a friend?
Stock your freezer with your all-time Jollibee favorites!
Make the most out of your time in self-quarantine!