Guys
The Guy Mistakes You Can Learn From
Allow your mistakes to make you better, not bitter.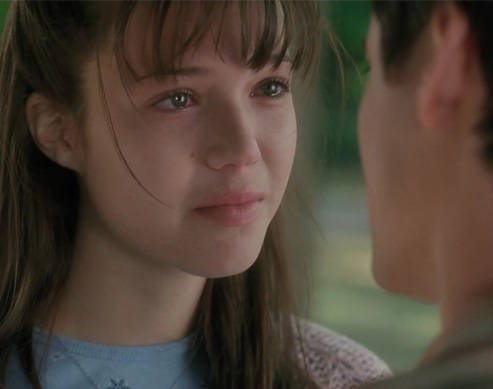 PHOTO Pandora , GIFS Tumblr
Once (or twice or thrice) in your life, you will fall for a guy and everything goes wrong in the world. These guys are those that scream trouble and heartache even before you get to be with them, but you fall for them anyway—hoping that destiny agrees to be on your side and not break your heart. But you will break your heart, and you will punish yourself for actually believing that things will be different with this guy.
Here's what you should know, Candy Girls, you should stop punishing yourself. Things happen for a lot of reasons, and one of those is because you had to learn something along the way. So dry your eyes, stand up, and heal your heart. The worst guy-related mistakes will actually make you a better person in the end, just you wait.
The Player
via dont-let-a-boy-break-your-heart.tumblr.com
ADVERTISEMENT - CONTINUE READING BELOW
CONTINUE READING BELOW
Recommended Videos
Uh-oh: You fall for the player. He is known for making girls cry, for making them fall for him without following through, for leaving them hanging on every word he says. You know you're going to get your heart broken if you fall for him, but you did anyway. Now you feel miserable after he dumped you for another girl.
What you can learn from him: How to love in the truest sense of the word. You weren't sure if he really loved you when you were together, but at least you put your heart on the line and showed him how true love is supposed to be—loving someone even if they don't deserve it.
Mr. Right For Now
via awesomealegreco.tumblr.com
ADVERTISEMENT - CONTINUE READING BELOW
Uh-oh: You decided to call it quits with Mr. Right-For-Now. You tried so hard to hold on to him because he loves you so much. He has been your comfort zone for quite some time, but you really can't see a future with him. Now he's devastated because you decided to let him go. You feel so bad because he wasn't a jerk. He was a good guy, and sometimes you wonder if you were a fool for hurting him.
What you can learn from him: The power of letting go. He might be good for you, but if you can't see him as a part of your future, then you really have to set him free. You don't have any right to take a love you can't give back. It would be unfair to him if you stayed in the relationship just because it's convenient to do so. He's a good guy and, like you, he deserves the best kind of love in the world.
ADVERTISEMENT - CONTINUE READING BELOW
The One That Got Away
via sicklysatisfied.tumblr.com
Uh-oh: He was the one that got away. You love him. He loves you. But things got complicated every time you tried to be together—your parents get mad at you, your grades go spiraling down, you start ditching your friends. Not being with him is a whole lot easier than struggling to make it through with him.
ADVERTISEMENT - CONTINUE READING BELOW
What you can learn from him: What "The One" should be like. Know that the One will come without complications, drama, and trouble. He will come without asking you to give up some things and some people who are important to you. He will be an addition to the things you love about life, not a replacement.
The One You Can't Have
via 10monthstoochange.tumblr.com
ADVERTISEMENT - CONTINUE READING BELOW
Uh-oh: You can't have him, but you still love him. You've been crushing on him for quite some time now, but newsflash: he has a girlfriend. You don't want to wait for him, but deep inside you know that you are indeed waiting for him. You sometimes wish they'd break up, and then you beat yourself up later for being such a mean girl.
What you can learn from him: Timing is important. Maybe this is not the time for your love story to unfold. Let go of him. The world is so huge. There are a lot of things you should experience. Stop moping and feeling sorry for yourself just because you can't have the one guy you love. Maybe, in the future, your paths will cross again and you can be together then. But until that time comes, you should live your life because YOLO.
The Guy They Warned You About
ADVERTISEMENT - CONTINUE READING BELOW
via atfirstglancefeeling.tumblr.com
Uh-oh: You fall for a guy whom your parents warned you about. In short, the 'rents don't like him. Your mom sees you with him, and she sermons you for a good 20 minutes when you get home from school. Dad tells you to stay away from him, unless you want to be grounded for a week. You don't have a choice, so you do what the parents tell you to even if it's breaking your heart.
ADVERTISEMENT - CONTINUE READING BELOW
What you can learn from him: The value of obedience. Your parents warn you about certain things and people because they only want the best for you. Look at it from your parents' perspective and try to understand the reasons why they won't allow you to see this guy or to see someone at the moment.
Got boy problems? Maybe we can help. Tell us about them in the comments or tweet us @candymagdotcom!
He majored in Civil Engineering and wants to build a big home for his family.
As well as students of state colleges and vocational schools.
Maybe get one for yourself, too?
Looks like Anthony Bridgerton will be the focal point of the new season.
Need a bit more scandal and intrigue in your life?
The four universities have released a joint statement.
Yes, a mainstream romance about two Filipinas falling in love. And it's really good.
Find out what the universe has to say about you.
Some started with zero entrepreneurial experience and knowledge!
Red wine in a scented candle? *Adds to cart*
Is Pepe Herrera Toni Gonzaga's leading man?
In this episode of Made It, Nina talks about starting a business as a college student and eventually growing her brand into what it is now.
From The Candy Bulletin Community