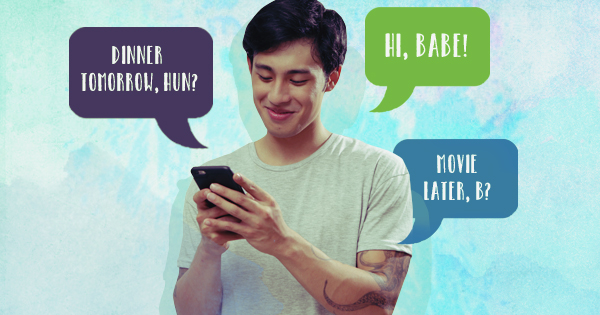 Wondering if your guy or the guy you're dating is a player? Sometimes, we just highly rely on our gut feel or our instinct. Most of the time, we're right. But there are just days when we get all paranoid about our guy or just a little jealous of his friends. So how do you spot a player? We asked our Candy Cuties this year to help us with this relationship and dating dilemma during their shoot. Check out the signs they've given us to help us spot a player.
| | |
| --- | --- |
| | "Through his friends. And when he always keeps his mobile phone close to him and never out of his sight." —Diego Loyzaga |
| | "When he has different girls every time, when he doesn't show you the messages and photos in his phone, and doesn't reply to you whenever he's out." —Neil Buenaventura |
| | "When he has lack of commitment; has inability to make time for you; and when doesn't include you when hanging out with other friends." —Miguel Escobar |
| | "He likes to give his attention to every girl that interests him, and wants to impress and show off to them." —Brian Gimenez |
| | "If the guy chats with girls and can't seem to stop staying on his phone. Also, if he keeps going out and parties with random people." —Jovic Ventinilla |
| | "He spends too much time in clubs and bars, texts a lot of girls, and talks to you when he isn't occupied by anyone else." —Joaquin Anareta |
| | "If he doesn't let you see his phone, doesn't give you time so you can spend the day together, and normally always texts a lot of girls." —Jairus Aquino |
| | "If he's a party boy. If he's not letting you check his phone and spends more time with his friends rather than with you." —Ching Santiago |
READ MORE:
What I Want To Tell The Girl Who Makes Me So Happy
The Things To Remember For The Girl Who's Been In a Bad Relationship Before
How Do Guys Define Cheating In a Relationship?
What about you, Candy Girls? How do you know that a guy is a player? Let's talk in the comments! :)
ADVERTISEMENT - CONTINUE READING BELOW