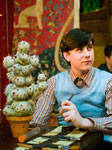 Neville Longbottom
Playing the shy and forgetful Gryffindor, Neville Longbottom, is Matthew Lewis. Matthew has had a bit more acting experience than most of the Potter cast, starring in a few small roles in for television and film, before landing the role of one of Harry's most loyal friends. A fan of the series, Matthew has this to say about his character, Neville: "[he's] vulnerable, scared of his own shadow." That fear will be put to the test in the latest installment, where Neville has a chance to prove that he was sorted into the right house, a house whose students are expected to have courage and bravery.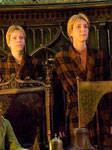 Fred and George Weasley
Real-life twins James and Oliver Phelps, who play the series' set of twins Fred and George Weasley, have one thing in common with their on-screen counterparts: mischief. While at school, both were fond of switching identities, a prank also seen in the first Harry Potter film. The Order of the Phoenix digs a little bit deeper into Fred and George's real characters and the twins both agree that they enjoyed filming it. "We can't say too much, but filming is going really well - it's really good fun." (quote from BBC News)
ADVERTISEMENT - CONTINUE READING BELOW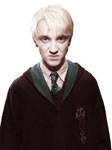 Draco Malfoy
Prior to playing Hogwarts' resident baddie, Tom Felton had been in several different movies including Anna and the King and The Borrowers. But it wasn't until bagging the coveted role of Draco Malfoy that Tom Felton became a household name. Unlike his character, however, Tom seems to be pretty grounded and has even supported campaigns against bullying. Tom is close to his family and has expressed deep gratitude to his fans. In the fifth film, Tom portrays Draco as a conniving suck-up—a far cry from his real self—and proves that he is an excellent actor.