We grew up with them. We've formed fan clubs, dedicated shrines, and professed our undying love to them. We've followed them since their first year at Hogwarts and now, almost six years later, we meet the boys of Harry Potter again in its fifth installment, Harry Potter and the Order of the Phoenix.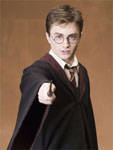 Harry Potter
ADVERTISEMENT - CONTINUE READING BELOW
Daniel Radcliffe, after several grueling audition procedures, was selected to portray what is perhaps the most important role in children's literature today. Much loved by the public, he is best known for his characterization of Harry Potter, an orphaned wizard, who gains fame after surviving an attack by the feared Dark Lord. Aside from his reprisal of The Boy Who Lived, Daniel has taken on roles such a comedic version of himself on the British television series, Extras, and most recently, as the lead role in Peter Shaffer's infamous drama, Equus, proving to his audience that his talent goes beyond the wizarding world. In fact, Daniel, along with co-stars Rupert Grint and Emma Watson, had recently been asked to have a hand, foot, and wand ceremony in front of the legendary Kodak Theater, which houses imprints of other famous icons such as Star Wars' C-3PO and R2-D2. If his performance in Order of the Phoenix is any indication of his true potential actor, it's safe to say that we can expect great things from Daniel Radcliffe.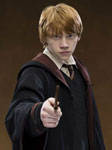 Ron Weasley
Only one of the few genuine fans of Harry Potter prior to being in the films, Rupert Grint is notorious for having crafted a video of him rapping about how badly he wanted to get cast in the Potter films. Needless to say, it worked. Rupert got the much-coveted role of Harry Potter's best friend and fan favorite, Ron Weasley. Aside from the Harry Potter films, Rupert starred in a coming-of-age film called Driving Lessons. He has also been recently reported to have purchased an ice cream van that he occasionally drives around his hometown. When asked about similarities between him and the character he plays, Rupert claims to also possess a dislike for academics, as well as a fear of spiders. In Order of the Phoenix, Ron's loyalty to Harry is tested when countless rumors about him spread across the entire wizarding community.
ADVERTISEMENT - CONTINUE READING BELOW