Guys
Richard Juan and Tommy Esguerra On Their Pinoy Big Brother Stint
Get to know two of the cuties from PBB 737!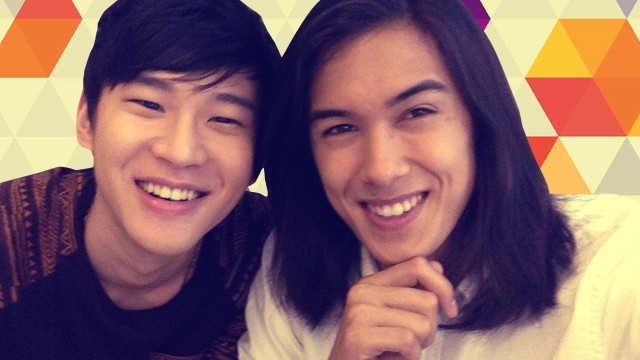 ART Trixie Ison
We recently got to chat with SM Youth Ambassadors and Pinoy Big Brother housemates Tommy Esguerra and Richard Juan at a shoot. These two models shared a few things from their experience, making us LOL with their hilarious anecdotes. Read more about them below now!

We're sure you don't always feel like participating in the activities inside the House. How do you deal when you encounter moments like that?
ADVERTISEMENT - CONTINUE READING BELOW
Tommy: I just think about my dreams, my reasons for being there, and the people who are supporting me outside the House. I just think about the people who push me through life, who make me think about making it. So even when I don't feel like doing anything, I think, "This is what I need to do. This is all on me."
CONTINUE READING BELOW
Recommended Videos
Richard: For me, it was a bit similar and a bit different. When I was in the House, I feel like that was just my world. Of course there are times when I miss what's outside, but when there are days that I don't feel like doing anything, I just remind myself that this is my world and this is my world now. I remember that I just need to get through this because my housemates rely on me for a task.

ADVERTISEMENT - CONTINUE READING BELOW
Have you ever watched videos of yourself during your PBB stint? Was there anything you wish you could take back?
T: Yes, I have! And no, I don't take back anything I said. Even if I regret saying stuff because they sounded bad, I just say what I want. The only thing I don't like, I guess, is these really weird facial expressions I make. I don't realize it, but I have these really weird looks. I look like a weirdo! I don't like it! *laughs*
R: I've watched myself on video, too, especially now that it...
T: It just pops up and starts playing!
R: Yes! On Facebook when you scroll and then it just plays. I pop up and I see myself and just watch, and I see myself crying. Ohmigod, I have such an ugly crying face! I'm an ugly crier. That's one of those things. And there's one where I can't dance. There was a video of me dancing on a pole. I just look really silly!
ADVERTISEMENT - CONTINUE READING BELOW
What was the most shallow reason you got annoyed at each other while you're in the House?
T: I wasn't mad, but there was a time when I was a little insecure about myself and I was jealous of Richard. He can speak so well and to me, Richard is a very intelligent guy. He can speak for himself, very successful, and very determined. For me, I'm like, "Man, I'm not that driven!" There was also a time when he was able to hang out with Miho (Nishida) and they were having a great conversation, and I was just sitting there and thinking, "I can't talk to Miho. I want to talk to her. I don't know how." I just felt so bad. I wasn't jealous, like "I hate Richard." I was just, "I wish I could do that." I won't hate him. I just tell him straight up, "I hate you! You suck!" *laughs*
ADVERTISEMENT - CONTINUE READING BELOW
R: There was that time!
T: At least I say it. Then it's gone. No tension.
R: In the same light, I got annoyed at Tommy for having abs. He was the one who had nice, lean abs...
T: You told me you didn't care about it!
R: Shh, that's supposed to be a secret. But that's one thing. *laughs*

During your first night in the House, were you able to sleep well?
ADVERTISEMENT - CONTINUE READING BELOW
T: I didn't have good sleep. I never had good sleep in the House at all. I don't know why, but I kept having bad dreams, the weirdest dreams. I still have some of them now, but in the House it was almost every night. Either that or I didn't dream at all. I just sleep and wake up and it's the morning. I was so tired in the House, and sleep wasn't that good.
R: During the first night, I can't sleep because I was full of excitement. I just wanted to sleep and wake up and see what happens. But the rest of the nights, I had good sleep. It was pretty alright, but when the teens came in, Tommy and I shared the same bed. And I was like, "Man, this guy moves all the time!"
T: I don't know what he's talking about because I wake up on the same bed. *laughs*
ADVERTISEMENT - CONTINUE READING BELOW
R: We started off sleeping side by side, and eventually I wake up and I'm at the edge of the bed. Half of my body was already off the bed and he'd be taking up the rest of the space!
T: I just wake up and wonder why I'm in a weird position.
R: When we started sleeping on the same bed, I didn't have good sleep. *laughs*
Read more about Tommy and Richard in our March 2016 issue.
She may not have won the Miss Universe Philippines crown, but she's no doubt a true queen.
Did you know that Miss Universe Philippines 2020 is a licensed physical therapist?
Life is more fast-paced over there.
The actress is already considering her next project.
You can choose from two sets of cast members.
You can check out home decor, too!
The government agency says, "Suicide is a sensitive and complex issue."
Kakamiss manood ng games!
We got to talk to a public school teacher to share how students, teachers, and even parents are dealing with studying from home.
They basically do all the work for you!
He usually makes them during break time.
"It is not only about memorizing laws."
From The Candy Bulletin Community