Guys
Your November Love Horoscopes are Here
Let the stars talk love this season.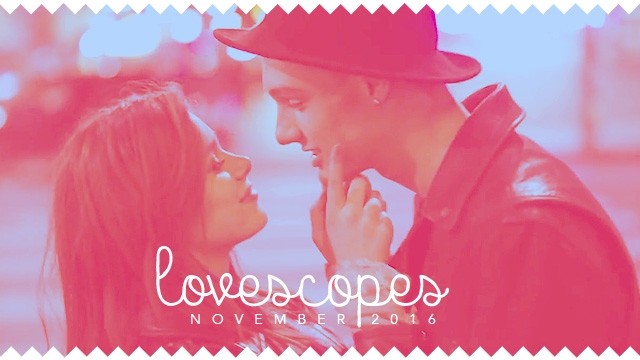 ART Clare Magno
Aries
(March 21 to April 19) 
Have you gotten so jaded that a Happily Ever After ending seems totally out of reach? Here's news for you—it isn't. Sometimes, we reach so far for the love that we think will make us happy, that we forget about the simple things and the little gestures that can spark romance in us all over again. Here's an invitation to look within—yourself, your relationship, or even within your partner. There's something in there that you've fallen in love with in the beginning that you may be missing out on right now.
Taurus
(April 20 to May 20)
They say that you aren't in a healthy relationship without the little arguments and petty fights—after all, it's always so much fun when you make peace after the drama, right? You can get to a point where there's too much tension though. If you've been playing the "will we or won't we" card with your potential guy for too long, the tension may not turn out for the better and at worst, can leave you in love burnout. Put a pause on the unnecessary squabbles and let your heart receive some rest.
ADVERTISEMENT - CONTINUE READING BELOW
Gemini
(May 21 to June 20)
Even when you're with someone, sometimes you can feel totally alone and isolated. If the blues are creeping up on you, it's time to reach out. No one's keeping you in that lonely shell of yours but yourself. While you wish your guy could read your mind, sometimes dropping hints and clues aren't enough and you've just got to get straight to the point and ask for company, ask for a date night, or ask for one of those deep, meaningful 'til-sunrise talks. You'll be surprised at how willing he'll be to help you out.
CONTINUE READING BELOW
Recommended Videos
Cancer
(June 21 to July 22)
"I'm fine, I'm fine, I'm fine." We get so used to telling people and showing everyone how we're experts at taking care of our business and holding it together, when sometimes, all we need is a little (temporary) cry session. It's brave of you to put up a front that lets everybody know you're great at handling heartbreak, but it takes even more courage to let the ghosts out of the attic every now and then and show your vulnerable side. Let down that front to people you can trust—it'll feel so good to be comforted.
ADVERTISEMENT - CONTINUE READING BELOW
Leo
(July 23 to August 22)
Exciting times on the love front, Leo! It looks like you'll be sparking a major connection with someone this month. Who knew that ideals actually existed, huh? Whether this guy's just good for some old-fashioned kilig (something that doesn't last too long), or whether he's actually got the staying power to get you from single to committed—that doesn't matter. Enjoy what he brings for the moment. Languish in the meet cute and the lighthearted fun. We could all use some giddy, spill-to-your-friends-worthy romance in our lives, don't you think?
Virgo
(August 23 to September 22)
You may be in a super secure relationship, or have just set your eyes on your crush of the moment, or are single and totally content in your celebrity crush—whatever the case may be, keep your guard on because you aren't the only person who sees the love potential in the guy in your life. If you'tre a fangirl, that could mean contending with some die hards out there. If you're getting to know someone interesting, he could potentially be hanging out with other girls. And girlfriends, stay protective of your guys! If you have a bad feeling, follow it—intuition never lies.
ADVERTISEMENT - CONTINUE READING BELOW
Libra
(September 23 to October 22)
Hold your horses, Libra—we know how frustrating it is to forever be the token single girl of the group. But if you rush too quickly into romance out of your restlessness, disaster could ensue. If you're feeling lacking in the love department for whatever reason, you're in that state to for a reason. The right guy will come at the right time and in the right circumstances. For now, shift your focus onto yourself and take this relationship down time to be awesome all on your own. Time invested in yourself is never, ever wasted. 
Scorpio
(October 23 to November 21)
Take a break from reality for a moment and take some time to dream up your super ideal relationship. It may sound like a silly exercise, but there's value in drawing up the guy of your dreams. He could be a mishmash of crushes from the past, celebs you've obsessed over, and even silly cartoon characters (Flynn Rider, anyone?). Figuring out who you'd love to fall in love with can actually tell you a lot of things about yourself—what you're looking for in a relationship, what you'd love your future to be.
ADVERTISEMENT - CONTINUE READING BELOW
Sagittarius
(November 22 to December 21)
For a typically happy go lucky gal, you're feeling the need this month to seize control of your love life and finally get the results that you so badly crave. Newsflash, Sagittarius—there's no way you can manipulate your fate to turn out exactly the way you want it, results guaranteed. Sure, there's a chance that you may be one of the lucky ones who gets everything she asks for—but isn't it much better to just let that happen instead of forcing love to go the way you want? Take a break from getting too control-crazy.
Capricorn
(December 22 to January 19)
Can't figure out the guy you've been seeing? Here's a clue: learn to read between the lines. It's going to take a bit off effort to decode the signs he's been giving, but it'll be well worth the extra attention. Just think of all the time you could potentially be wasting with all the endless wondering! If you want him to be more straightforward, you'll also have to start being clearer with your actions and words. Don't lose heart—start the conversation, define the relationship, and maybe he'll take your clear cues.
ADVERTISEMENT - CONTINUE READING BELOW
Aquarius
(January 20 to February 18)
As much as you'd like to be all coupled up at the moment, you're in serious need of some alone time. You can get a super exciting love life at the snap of your fingers, but if you're in a relationship just for the sake of it, it isn't going to contribute a whole lot of good. You're better than that, Aquarius—you deserve to get the love you truly want. But before that appears, you have to hone in on what, who, when, and how you want love to come into your life first. Focus on that, and the rest will easily follow.
Pisces
(February 19 to March 20)
While your inner sweetheart would just love to give all that love away, November is asking you to rein it in a little and give your heart the protection it needs. Relationships are a give and take thing. And you're undoubtedly an expert at giving of your self, your time, and your energy! But what about the taking? It's high time you make sure you're on the receiving end of all that love you so readily give to others. Be wary of who you give that love to—he's got to be worthy of it.
ADVERTISEMENT - CONTINUE READING BELOW
Nieves Fernandez killed 200 Japanese in WWII.
It was filmed four days before he was rushed to the hospital.
Facebook is allegedly collecting unauthorized data for market research.
They'll fit right into your #aesthetic home study area!
From light-hearted rom-coms to musicals.
She's set to star as the young Gabbie Salazar, originally played by Shaina.
We're keeping her tips in mind!
Proof that Ivana has a heart of gold.
Pagdating sa skincare, stick to one ba dapat?
In the public eye, at least! As Janella once said, "Masaya but I just don't want to share a lot."
From The Candy Bulletin Community