Guys
LOL, This Guy Made a Dating Resume and It's Genius!
So inspiring!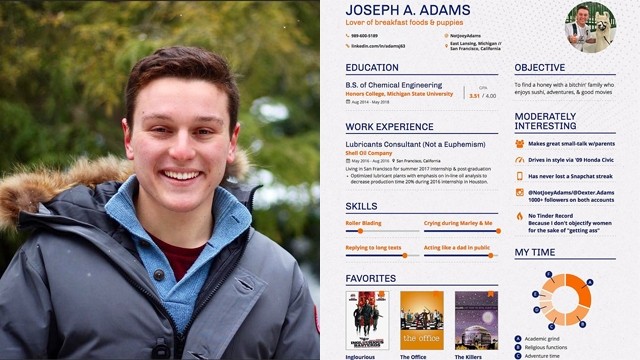 IMAGE Joe Adams | instagram.com/notjoeyadams
When we want to date someone, we often run to our friends, family, or even to dating apps just to find someone we can spend time with. But instead of doing that, Michigan State University student Joe Adams came up with his own dating resume. Coolio!
We absolutely love how detailed it is and how everything ~*important*~ is in here. From his objective ("to find a honey") to how he spends most of his time, the basics we need to know about the future love of our life is here.
In his interview with BuzzFeed, Joe explained that he made this because a girl he's been chatting up before asked him for one. "She asked if I had a dating résumé that she could look at, and when I said no (like any normal person would) she told me no," he said. Of course, he had to make one ASAP just in case someone asks for it again. (via Mashable.com)
LOVE HOW PREPARED HE IS! ♥
Since his post went viral, there have been ladies asking him to be their dates and he's made the news, too. Congratulations, Joe!
What you waiting for, you guys? Let's all go and work on ours! 
\\\\\\\\\\\\\\\\\\\\\\\\\\\\\\\\\\\\\\\\\\\\\\\\\\\\\\\\\\\\\\\\\\
Get the latest updates from candy!
subscribe to our newsletter!
////////////////////////////////////////////////////////////////
You know you'll regret it.
You don't even have to leave the house!
From digital art to photography to mixed media, Filipino artists show that creativity is never lost in our people.
Skip a makeup step with these beauty goodies!
Take pretty notes and study effectively with these tips!
Wait for a love like this. A love that is good to you, for you.
Are you up for this challenge?
Can't wait to see the actual gowns!