Guys
It Was Good While It Lasted
We've reached our bitter end.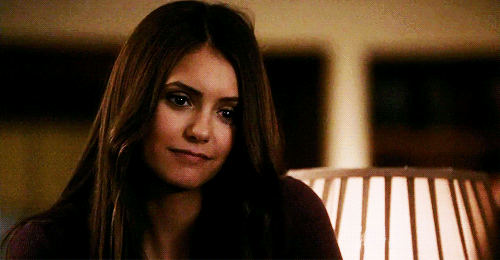 IMAGE The CW/giphy.com
Too many times, we see love evolve, only to witness it fade. We see it begin, and we see it end. Love starts, but just like every other thing existing in our universe, love dies. I never expected us to die so soon, but I guess no one can really put a timestamp on a thing as such.
We ended before we even started.
Love has a strong power of spontaneity that manages to sweep us off our feet when we least expect it. You came into my life surprisingly. I didn't think someone like you would have such a striking effect on someone like me. But it was simple—you gave me happiness when all the world seemed to do was crumble, and that was all I could've asked for. You gave me proof that sometimes, it is not words that do the healing; rather, it is simple moments with people like you that mend a broken soul. You made everything seem better with that hysterical laugh of yours. That was all it took for me to turn my head and glance at you for a second time. That time, as much as I tried to prevent it, I fell for you.
ADVERTISEMENT - CONTINUE READING BELOW
CONTINUE READING BELOW
Recommended Videos
It was quite typical—time spent together turned into time treasured. Conversations shared became conversations kept. Stories told became stories that mattered. It all seemed so perfect thinking of the signs and possibilities I was certain were there. I kept my trust and believed that the road would eventually lead someplace where we'd know for sure what we were and what we could be. But I failed to see the bigger, more realistic picture. I had reached that state where I'd become so hopeful on potential. None of what I had wanted was going to happen because none of it was there to begin with.
I continued to fall for you, like the fool I was. I paid attention to every small and minute detail that involved you. I'd always think of the time we spent together—how you'd attentively listen to everything I'd say, your presence beside me, how it felt when you'd put your arms around me, and how happy you made me feel. It was so blissful; just thinking of it now paints a smile on my face. But I guess that's always how it begins. It starts off like a fantasy, but ends as a harsh reality. I didn't notice how quickly I was falling that when I hit the ground, it just hurt like hell. You hurt me like hell.
ADVERTISEMENT - CONTINUE READING BELOW
How painful it is to have faith in something so much, only to see it falter in the end.
I'd like to think what I felt for you exceeded that of a plain admiration, but it's that very value I put into my feelings that upset me. It's the chance I saw with you that brought me back to my gloom. I guess that's the risk that comes when we attach ourselves to people—we look at possibilities and potentials with much optimism, building it up so high that we suffer a terrible crash once we fall. It's never our fault though. Despite the control we have, we can never prevent getting attached to someone. We can conceal it, disregard it, and even ignore it. But no matter what, there is no wall to stop it from existing.
Despite all the hurt you put me through, and all the pain I've had to deal with, it was good while it lasted. Like I said, you made me happy, and that was enough. Perhaps in another lifetime, in another setting, or in another universe, we'd be something, but where we are now, we're nothing more than two people co-existing. We had our good moments, and those are moments that I will always look back at with gratitude. We've reached our bitter end; there is no "begin again" anymore, at least not on the same road. You've blocked any chance at seconds, and maybe that is the way it's supposed to be. Perhaps that's just the way life goes. Cliché as it is, nothing lasts forever, only change. That is natural. Maybe for a time there, you really did care, and we really could have been something. But change interfered, and fate took its course, and there's only so much, if not nothing, that people like us can do to control it.
ADVERTISEMENT - CONTINUE READING BELOW
The happiness you brought me will always be undeniable. But now that the curtains have finally drawn, here's to let you know how much I appreciated you; how much I appreciated us, even if it was just for a little while.
Have you ever heard of the *Off-Facebook Activity* tool?
At The British School Manila, students use social media to foster a sense of belonging.
Here's a little throwback that will make your day!
The security issues detected "may have been actively exploited" by hackers.
"No matter how hard we tried to make it work, it wasn't meant to be."
Take your pick from this list of self-care apps and mood trackers.
It's happening in stores and online!
It isn't an easy feat even for the regular students like us.
In case you're curious about what kind of jobs are currently available in the market.
For when you're feeling adventurous.
You can spend Happy Hour watching the sunset!
From The Candy Bulletin Community