Guys
We Never Really Stop Caring
There is nothing wrong with that.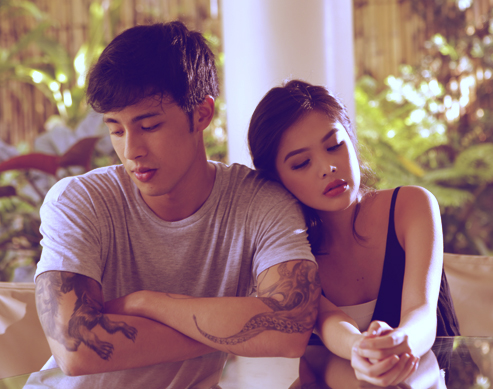 PHOTO Mark Jesalva MAKEUP Angie Cruz for Shu Uemura
HAIR Eddiemar Cabiltes MODELS Mikko Marcel & Bea Marin
You can unfriend him on Facebook, unfollow him on Twitter and Instagram, hide him from your Feeds, or attach the prefix "ex-" to the titles he used to hold in your life. You can even delete all your photos online, on your phone, and laptop. But those things do not necessarily mean that you stopped caring for him or being concerned about how he's doing or what he's been up to recently.
There's a reason why you can't stop stalking him and even the new people in his life, back-reading through his posts, and finding yourself stuck in your last good year together. You try your best not to care, tell yourself that hate-stalking is just your hobby, when in reality, you're hoping that he's alright and still alive even after you've grown apart and after he's broken your heart.
READ: An Open Letter to the Person Who Made Me Feel Okay Again

ADVERTISEMENT - CONTINUE READING BELOW
There is a reason why whenever someone mentions his name, you still feel a slight sting somewhere in your chest. Maybe life got in the way and you're both so different from each other now, so you just allowed "life" to make the gap between the two of you wider—wide enough that you can't see him on the other side anymore. You just let it be.
CONTINUE READING BELOW
Recommended Videos
There's a good reason why you keep the book you forgot to return to him, and why you hold onto the handkerchief he's left in your bag that one time you were allowed to go to an out of town beach trip with your friends. It could be because they hold memories so dear to you. And because somehow, those things that once belonged to him became a part of who you are, too.
There's also a good reason why you can't check Timehop or you've decided to turn off the notifications for Facebook's "On this day" feature. You know that the moment you read the posts you used to write about him years ago on your Wall, you'll have nightmares again—the kind that happens even when you're wide awake and then you end up fighting the thought of him out of your head.
ADVERTISEMENT - CONTINUE READING BELOW
READ: From Our Readers: An Open Letter to the One Who Thinks the Pain Will Last Forever
You still care. You know you still do. Because underneath those layers and layers of denial, pretenses, and jokes as defense mechanism, you still allow yourself to think of him once in a while. And you know deep inside that you don't really hate him. As a matter of fact, you understand what happened even if there was no explanation from him, even if you never really got the closure you need.
Deep down, you know you want him to be happy and to have everything he's ever dreamed of in life. That's enough proof that you still care and you still genuinely love him. And there's nothing wrong with that. You shouldn't be ashamed that you still do. Because caring for him still doesn't mean you're not over him or that you haven't moved on. It only means you're human, and that you have a heart that feels and looks back and beats. It only proves that you care and you've loved and that you'll never stop doing both, because it's our nature to care and to love. You can spend the entire day, week, month, or year convincing yourself to hate him and stop thinking about him, but don't. It's perfectly fine that you still do.
ADVERTISEMENT - CONTINUE READING BELOW
Got a story to share? E-mail us at candymagazine @gmail.com and you just might see your work published here. :)
Put these titles on your watch-list.
A capsule coffee machine for P2,999? Sulit!
It takes five people to make one!
See how this homeowner carved out an office space in his tiny bedroom!
His tweets are forever benta!
Big Boss is back-now as a pilot slash space debris salvager and a lawyer slash Italian mafia consigliere!
She found out about the casting call through Facebook.
Their songs are perfect for days when you need a little pick-me-up!
It's a local pottery studio located in San Juan.
The three movies are filled with them!
From The Candy Bulletin Community