How to tell if a guy you're crushing on likes you too:
If he is normally a confident person but when he's around you he becomes all mushy.
Sometimes he tends to show off or even tries to make you laugh.
Or he looks straight into your eyes when he talks to you.
What to do if your crush hasn't made a move:
Be patient. Who knows maybe he's up to something magical?
Never rush things. Maybe he's just waiting for the perfect time.
NEVER FREAK OUT.
Signs your crush is more than just a crush:
When he shares personal things because that is a sign he trusts you.
If the feeling is mutual (what a cliché).
He is not afraid to make effort and the commitment to starting something REAL.
Need more help? Check out this flow chart to help you figure out if you should take this whole crush business to the next level or if it's time to move on to a new crush.
ADVERTISEMENT - CONTINUE READING BELOW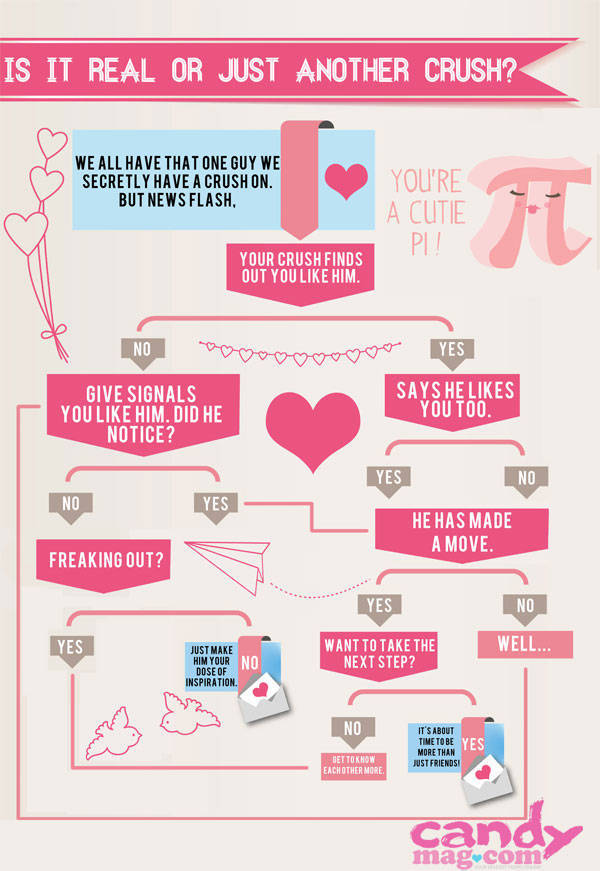 Feel free to share on Facebook, Twitter, Tumblr, Instagram, Pinterest, and all your social networking sites! :)