Guys
How To Tell Him Without Telling Him
Give your crush a clue without giving it all away!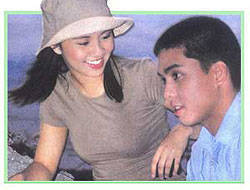 There is an art to having a crush. Not many girls know this, but it's true. Crushing on a guy requires skill, panache, and the balls of a large kalabaw . Because aside from sighing dreamily about his cute dimples or flip-floppy hair, the art of crushing requires that you send your guy signals. Signals that let him know… you're interested! Sort of. After all, what's the point of liking someone if you can't let him know, even just a little bit? It's like holding back a huge sneeze for too long: Eventually it just all blows out, and someone's bound to say "eww."
The trick is to send the right kind of signals that let him know you think he's the bomb. You'll want to use nice, subtle, simple ones–signals that will make his ears perk up like a puppy who's suddenly heard the faint whistle of his favorite dame; sending signals that rival the Ayala Mall fireworks will send him running away from you, clutching his hair, and shrieking "Nooooo….!"
ADVERTISEMENT - CONTINUE READING BELOW
Here are the top five tips scientifically tested by girls in the know–sneaky, sly ways to let your guy know that he's all that, without scaring him away. And who knows? Once he becomes gradually aware, he may start crushing back on you. Good luck!
All you need is coffee, hot water, and milk sugar is optional!
What's your best and worst trait as a friend?
Stock your freezer with your all-time Jollibee favorites!
Make the most out of your time in self-quarantine!
It's okay to take it slow.
Are you ready to elect the next Philippine president?
A lot of them are apps we haven't heard of before.
We're sure you've seen portraits on your feed.