Guys
How Long Distance Relationships Prepare You for Life
"You are brave because you believe in love, no matter the obstacles."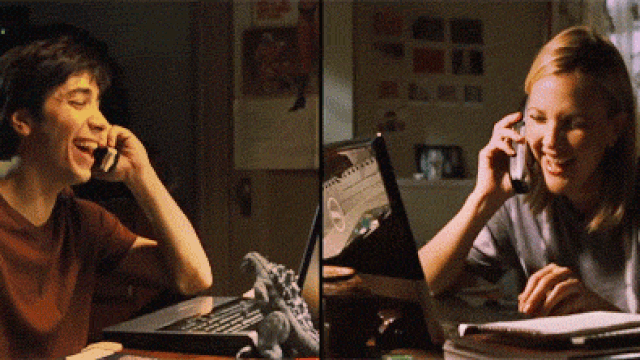 IMAGE Warner Bros./Giphy
If you are currently in a long distance relationship, we admire your courage to believe that the love you send away will always find its way back to you; wherever in the world your lover might be. We admire your strength to hold on when life does nothing but make you want to let go. You are brave because you believe in love, no matter the obstacles.
We won't even sugarcoat it; long distance relationships are not easy to keep. You will get tired of not having a hand to hold when you are unsure. You will be longing for a warm hug to come home to on tough days. You will be frustrated because his eyes that you love so much are just not the same when you're staring at them through a computer screen.
You become more understanding
Time spent apart makes you more patient with things you can't control like personal emergencies and sudden schedule changes. You don't want to waste precious time arguing over the phone so you don't let the little things get to you.
ADVERTISEMENT - CONTINUE READING BELOW
It makes you a better listener
It does not matter if you send each other texts, or snaps, or tweets; being in a long distance relationship requires you to pay more attention to what the other person has to say. You tend to cling to their words because on most nights, you read them over and over again and you don't feel so alone anymore.
You grow as an independent person
Going long distance gives you more room to become your own person outside the relationship. You get more time to pursue the hobbies you want to try, the books you want to read, and the cities you want to visit. It's nice to know that the love of your life is also out there onhis own adventure.
You learn to be hopeful
They say long distance relationships are just 90% promises but that is not necessarily a bad thing. Promises are like seeds that take root in your heart; it makes your love stronger because it gives you a preview of a future together. Promises are what you hold on to when the distance become unbearable andyou feel like giving up.
ADVERTISEMENT - CONTINUE READING BELOW
You learn what it really means to be in love
Love is travelling for hours just for an embrace. Love is falling asleep with Skype still on. Love is having your day turned around by just hearing his voice. You may have your own personal definition but here's what you should keep in mind: being in love makes being in a long-distance relationship easy.
There will always be people who will rub "Long distance relationships never work." in your face. There will always be people who will question why you're sticking around for a person who cannot even be there for you when you need him. They will doubt your love just because they can't see it. Prove these people wrong. Show them how you know it's true because you can feel it. Show them that love doesn't recede in the distance because "space" is all in the mind and there will come a day when that distance becomes no more.
ADVERTISEMENT - CONTINUE READING BELOW
We rounded up some simple reminders that might help you get through this hectic week.
PSA: They're all REALLY CUTE.
Note to self: You having a hard time does not equate to you being less smart.
"You suddenly or sometimes won't feel so smart anymore."
Constant cups of coffee, panic attacks before exams, eyebags for days, and tons of memes about stress. Sound familiar?
If it's something you've meticulously mulled over and thought long and hard about, then you're not marupok because of it.
Trade in your old iPhone for the iPhone 11!
As part of the #BreakTheStigma campaign, mental health experts and advocates say there is nothing wrong with asking for and needing help.
Carlie Hanson is definitely someone to watch for!
Because coffee is LIFE, no matter where you are.
Contrary to popular belief, it's rare for people to find the "perfect" first job!