We know, we know. It is easier to hang at home with bae and hold a movie or a TV series marathon with him because of the cold weather. But for this weekend, we want you to try something different with the love of your life instead, something that will keep your hands from reaching for another serving of junk food for a while. Why not try this workout move with him which we found in Candy cover girl Solenn Heussaff's book Hot Sos?
The Push Press + Decline Push-Up is one move we badly want to try. It looks challenging, but fulfilling, too, when you're able to do it with bae. It may look hard or intimidating, but with a little teamwork with your bae, you can totally do this. So how do we go about this?
First, have your bae (or even your workout buddy!) lie on the mat with his knees up. Place your feet in his hands, and take a push-up position. Allow him to use your feet as weights as he does a chest press. Making sure that your heels are higher than your heart, straighten your arms and do a full plank while your bae is performing his workout. Do 2 to 3 sets of 10 to 12 reps. You can switch sides, too, for the next set.
ADVERTISEMENT - CONTINUE READING BELOW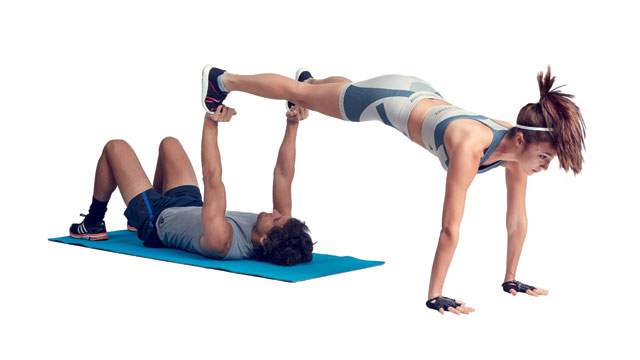 Remember, it is easier to stay fit with the help of an accountability partner who can do your workouts with you and make sure you eat healthy most of the time. We actually have a ton of workouts on the site for you, so go and try doing those with bae, too. Have a fun time with him, Candy Girls!
ADVERTISEMENT - CONTINUE READING BELOW
For more workouts you can do with bae, grab a copy of Hot Sos, co-presented by Milo Nutri-Up, which is out now in bookstores, newsstands, supermarkets, and convenience stores nationwide for P295.