Guys
Cutie Twitter Talk: The Perkins Twins Play Gale In The Catching Fire Fan Mag
Check this out and other cutietweets.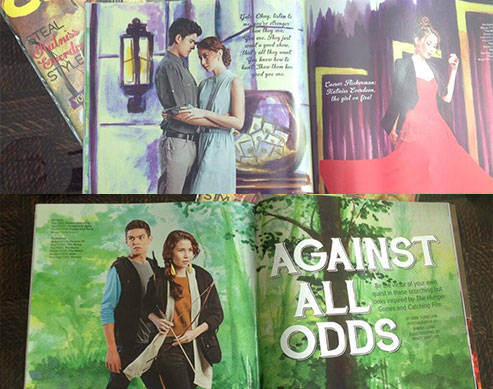 PHOTO Twitter
A shot from the Hunger Games: Jesse Perkins as Gale during the Reaping, probably right after Katniss volunteers as tribute!
Grab a copy of @candymagdotcom Hunger Games Special Edition :) #catchingfire pic.twitter.com/vmAtTONDGM

— Jesse Perkins (@jesseTperkins) November 21, 2013
And Christian Perkins as Peeta! Okay, hypothetically speaking, if you were in Katniss' position it would be hard to choose between Gale and Peeta!
Cool Hunger Games Special Issue from @candymagdotcom - grab a copy! :) #CatchingFire pic.twitter.com/eEpCAEyY4Y

— Christian Perkins (@tianDperkins) November 21, 2013
True tweet in the comments: "people in this coach: too swerte." We want to be in that coach!
What Friday rush? pic.twitter.com/OfxtNqsGZS

— LA (@LAAGUINALDO) November 15, 2013
Teejay Marquez gives you dramatic and subtle, be careful each photo is a hreatbreaker! @teejaymarquez
Photos for grab on my Instagram #profile pic.twitter.com/62nQfFy3Nd

— teejay marquez (@teejaymarquez) November 18, 2013
Maqui Castelo is too cute for this tweet!
Is Andi Manazano married already? I think I'm late in the news....

— Maqui Castelo (@CaliforniaMaqui) November 19, 2013
Brighten your day with this random tweet from Alexander McDizz and the fluffiest cow you will ever see!
If u've extra cash, & u dont already, spend a day alone. Its a good teacher. Good morning all! Heres a hairy cow! pic.twitter.com/V4MYRQvEjm

— Alexander Diaz (@AlexanderMcDizz) November 19, 2013
Ruru Madrid gives love advice you need to note down girls! @Rurumadrid8
"If you love someone more then anything,then distance only matters to the mind not to the heart"

— Ruru Madrid (@Rurumadrid8) November 19, 2013

Imagine Jake Seneres being part of the cabin crew on your next flight, would make plane rides more than bearable!

The Flight Attendants of Time Airways, at your service. #BCWMH pic.twitter.com/hbBHGD9TsQ

— Jake Seneres (@KeepJoaquin) November 20, 2013

A big congratulations are in store for Manolo Pedrosa for bagging best actor! Hopefully we could see him portray Romeo!

Best Actor! So proud hehe pic.twitter.com/bSo4Qzw67v

— Manolo Pedrosa (@NoloPedrosa) November 21, 2013

John Green and Daniel Velasco fans unite!

Reading Paper Towns! :)

— Daniel Velasco (@_danielvelasco) November 21, 2013
The kind of wholesome content we all love to see.
Being away from each other teaches you to cherish every moment together even more.
Your Moon sign is all about your most intimate feelings, fears, and desires.
Gotta stay cool, fresh, and iwas pawis.
Remember the show Codename: Terrius when it was aired on ABS-CBN?
At 23, he is the youngest elected mayor in the country.
Rest in peace, Coach Aric.