Guys
Candy Boy-Strology
Decode Your Dude's Sun Sign!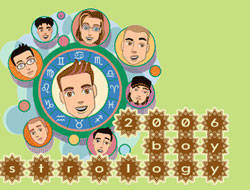 ARIES (March 21 to April 20)

The definitive guy's guy, Aries is impulsive, energetic and always ready to conquer some big challenge. Heading the Marlboro Adventure Team is his ultimate goal. Name any typically "male" activity—basketball, karting, changing a flat tire for a girl who doesn't know the first thing about cars—and he's surely done it. This headstrong dude loves to win, and he'll do anything to prove he's the best at his game. If you're a romantic who loves stories about damsels in distress and their white knights, then you'll love the Aries guy—it's in his nature to "save the day." (Just don't let his acts of courage get to his head—make sure he knows that you don't really need saving all the time!)
Alias: Mr. Natural Born Leader
Where To Spot Him: Partying the night away at Embassy.
How To Catch His Eye: Be just as gregarious as he is—dance the night away with your gal pals and show him that you know how to have a good time.
Conversation Starters: "Bet I can beat you in a game of one on one!"
His Best Love Matches: Leo, Sagittarius, and Aries
His Worst Love Matches: Virgo, Scorpio
What His TV's Tuned Into: The Amazing Race
Beware! This Dude Can Get: Impatient and aggressive
ADVERTISEMENT - CONTINUE READING BELOW
CONTINUE READING BELOW
Recommended Videos
TAURUS (April 21 to May 21)

It's not that Taurus guys like to put themselves under terribly difficult circumstances when courting a girl–it's just that they really do have the patience to court and court (and court and court…) until he finally gets your sweet "Yes, I'd love to be your girlfriend!" Taurus guys are sensitive, so much so that when they're serious about something, they stick to it with a signature determination. He'll burn the midnight oil just to make sure he passes his college entrance tests, or finish that song he's been writing. These affectionate and passionate bulls make great artists and musicians (Leonardo da Vinci was a Taurus!). If you're tired of raising the "Guys are pigs!" placard in protest of your last three insensitive boyfriends, look no further because the Taurus dude is the answer to all your rants. (And no, not all guys are pigs.)
ADVERTISEMENT - CONTINUE READING BELOW
Alias: Mr. Faithful and True
Where To Spot Him: Waiting to pick you up after classes outside your school's gate. Aww.
How To Catch His Eye: Carry that autographed Neil Gaiman book around and know the book like the back of your hand.
Conversation Starters: "What do you think about Marc Chagall's paintings?"
His Best Love Matches: Virgo, Capricorn, and Taurus
His Worst Love Matches: Libra, Sagittarius
What His TV's Tuned Into: HBO's Deadwood
Beware! This Dude Can Get: Possessive and self-indulgent

.~'* GRAB THE MAG! *'~.

Get Candy's Boy-Strology free with Candy's January/February 2006 issue!

For back issues, call Loel/Vivian at Filbar's, Inc. 4162459/4139688/7262784
ADVERTISEMENT - CONTINUE READING BELOW
It's never too early to start being more concerned about finances.
Most of them stayed here for awhile to study English.
These legless seats make great accent pieces for small spaces.
Give these films a try as you move through this stage in your life.
Some had college majors totally far off from music.
The result is absolutely hilarious!
For that authentic overexposed + grainy effect!
Like most fashion enthusiasts, Lexy dreamt of making her own clothes.
Your dye job will be your little secret!
The construction of her new house will start this year.
From The Candy Bulletin Community